Freakin' Lasers! – Deluxe Game Inserts
There are a few companies in the market who make custom laser-cut inserts for games. I own a few of them, and want to talk about their merits, issues, and overall effectiveness. Sometimes having an insert can be great. Other times it's just a flashy add-on without real purpose.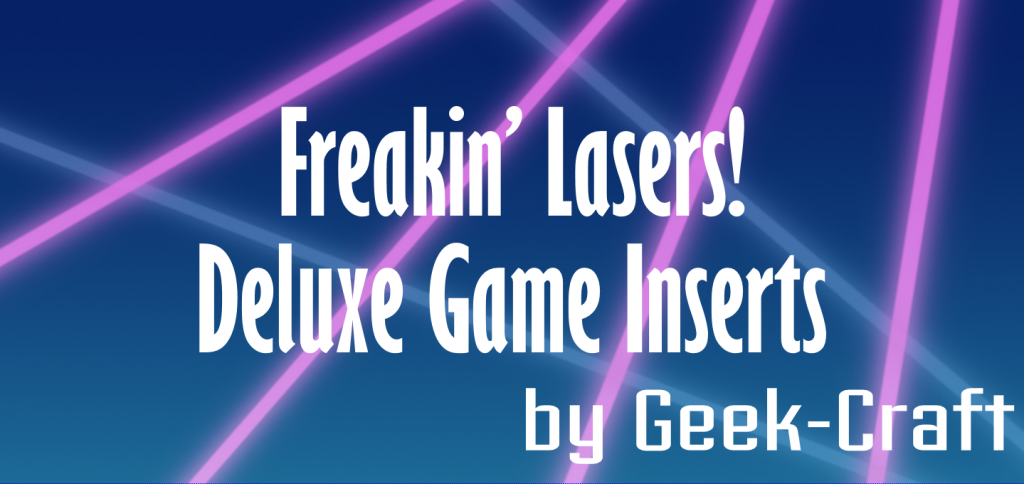 There are two primary advantages to organizers like the ones below. Firstly, they help keep everything organized. This means getting the game to the table with less hassle. Secondly, organizers can be created after expansions are released, helping fit more game material in the box, and more games in a given bag.
Most of my inserts are from The Broken Token and Meeple Realty. I've known Greg from Broken Token for some time, and in the beginning, they made some very simple but effective inserts. One of the first inserts I purchased from them was for 7 Wonders. I'm a big fan of the game and since there are a few expansions, keeping everything organized in the original box was proving difficult.
Their Wondrous Organizer keeps everything in 7 Wonders organized. You can easily separate the age cards from each other, as well as the Leader cards from the rest. You can easily keep the war point tokens separated and can pass around the tray when it comes time for handing out those tokens. The money tokens are also kept in a tray, easily passed around and shared. This organizer is one of the best ones that Broken Token has made – it makes organizing the game and expansion content very easy. It also helps keep all the tokens and bits organized and makes the game that much easier to get to the table.
Back when I got my first insert from Broken Token, they were very functional, but they weren't always "pretty" or designed with aesthetics in mind, or at least that's how it seemed to me. This isn't an issue, simply something that was different when compared to Meeple Realty.
I have known Tommy at Meeple Realty for a year or two. Meeple Realty's inserts really stuck out to me in the beginning because they are gorgeous. They add little details to inserts that don't add any function, but add to the theme of the game.
For example, their Farmer Barnyard insert for Agricola: All Creatures Big and Small doesn't just have separate spots for the animals, but little fences to keep them held in. Flat walls would have been fine, but it adds to the experience. There are little etchings in the bottom of the animal pens to show grass growing. Again, no real reason aside from theme.
One of the other inserts I first got from Meeple Realty was for Castles of Burgundy. While the finished insert works well, it took far longer to put together than I feel it should have due to many small pieces and complicated steps. The instructions worked fine on paper, but in actual execution where wood can swell or there may be minor differences, it proved to be rather frustrating.
Of course, things change over time, and both companies have grown and evolved. Broken Token has many organizers, including full box replacements for things like Pandemic and Galaxy Trucker. They have added theme to a number of their inserts. For example, their tile holder for Betrayal at House on the Hill resembles a building. It's a simple and effective touch.
At the same time, Meeple Realty has made their inserts easier to put together and have worked to add function to form. Their insert for A Feast for Odin has Viking styled axes that are used to hold all the money tokens in the game.
I will say that some of these organizers can get expensive, but if you are a huge fan of a game, perhaps it's something to consider. These kinds of inserts are also great to add to a birthday or Christmas list, as your relatives may not see it as buying you yet another game.
While I've spoken mainly about Broken Token and Meeple Realty, there are other organizer companies out there. Daedalus Productions does some very nice work, and while their inserts tend to be more expensive, they also stain the wood and have a different design style than the other companies. Go7Gaming is a company I've not purchased from yet, but they have an eye for detail and have detailed instructions for which organizers are needed for a given game and all the expansions. They also don't use traditional wood, but a "constructed wood product" which means a different texture and look but a product still made of wood. I've reached out to Go7Gaming, who will be featured in a follow up to this post.
While not the same thing, I would be remiss to not mention Daft Concepts. Chris doesn't make gaming organizers in the same way as the other companies above. Rather, he makes play organizers – things that make your game play a little better or more interesting. My favorite piece (that I helped inspire) is the Burgle Brothers tower.
It takes the idea of breaking into a multi-storied building and really brings it to life. One of the best gaming accessories I've ever used, and one I have a really hard time not playing with.
This isn't intended to be an exhaustive list of all the companies who make laser cut organizers and gaming accessories. Rather, I wanted to help show that there are a number of options on the market for such things and show that different companies work with different intents. If you're curious about any of the organizers that these companies make, I'm sure that reaching out to them is an option. Of course, seeing the inserts in person at a convention is the best way to really appreciate the final product. Unfortunately, this is usually very dangerous for the wallets of those convention attendees.
If you have any questions about any of the inserts that any of the manufacturers make, please let me know. I'd love to answer any questions in the follow-up to this post where I'll talk more about Go7Gaming's inserts!
Note: Reviewer discounts have been provided by The Broken Token and Meeple Realty for many of the products I've purchased.