Play Games? At a Con? – Origins 2019 in Review
Origins 2019 is in the books and after the last year or so, it was a wonderful time. Let's talk about how things went and the highlights of the show.
To put it bluntly, it's been a hell of a year. I've been looking forward to Origins since March, and it was worth the wait. My first Origins was in 2008, which means this was my 12th year. I love the show, and there's always a hiccup or two, but it's still one of my favorite conventions.
After going through the BoardGameGeek Origins preview, I had found 105 titles that I wanted to see at the show. Anyone who has been to a convention knows that you'll never see everything you want to and you'll see things you hadn't planned on. It's just the nature of the beast.
Wednesday
We arrived on Wednesday with nothing interesting happening on the way down. Checked into the hotel and headed over to get our badges. Oddly enough, I was not in their system despite registering. The same went for Sam. After trying another computer, we were able to get our badges. It was weird having the registration all the way down at the giant head, but I don't know if it was worse or better than in the main hallway. It was nice not having droves of people in the main hall, but at the same time, it was a long walk for everyone to get to registration. Of course, it also took over where the Math Trade usually happens, which caused some problems. It was also difficult to navigate to the open gaming rooms when there were large crowds in line.
I went to the Queen Games Media Game Night and had a good time. Seeing old friends was great, meeting some folks in person for the first time was also wonderful. Copenhagen was the big draw at the event and while I didn't get to play that night, I did win a copy in the giveaway they held. I think the acrylic version is very pretty, I think the cardboard version is more fitting for this title.
Thursday
Woke up bright and early Thursday morning. Sam and I met up with Eric Buscemi of Cardboard Hoard and his buddy Zach Connelly. We set up a 4 player game of Copenhagen and even though I lost, I really enjoyed checking the game out. I think it's another great light, family style game coming from Queen Games. After that game, Eric taught us Silver & Gold, a flip and draw on cards with some fun push your luck elements. It's a very quick game to play, and one I'd love to play again. Right now, it's only available from Germany, but that may soon be changing.
Off to the dealer hall for the first day and it was quite busy. I made a point to keep my Thursday morning open to browse the dealer hall. I had a few appointments, which went quite well. I met with Justin Gary to talk about the latest Ascension set as well as Ringmaster and last year's expansion for Shards of Infinity. We talked a little about the upcoming expansion, which I think will be a big change for the game, and one I'm looking forward to.
I then met with Curt Covert of Smirk & Dagger games. SHŌBU is a very interesting game design – another two player abstract that feels old despite only coming out this year. Wooly Whammoth was a game that was meant to be sold, but due to a production issue, he had to convert them to review copies. It's a fun group push your luck game with some really goofy fun. It's a game that on your first play, everyone will laugh but do poorly, but afterwards players will adjust to the gameplay.
I met with Ross at The OP (pronounced as a word, like OPeration, and formerly known as USAopoly) who showed me Harry Potter: Hogwarts Battle – Defence Against the Dark Arts and Dungeon Academy. Both games look really fun, and while I'm not a big Harry Potter fan, the two player direct combat game is a fun take on the Harry Potter: Hogwarts Battle deck building system from 2016.
Colin at Luma games was next on my calendar. Meeting with him was a blast and seeing the future of a number of companies was great. Museum was gorgeous to look at and a really fun game to play. Draftosaurus looked really cool, as did Tales of Glory, and the new version of Mississippi Queen has me excited that the game is getting a reprint. I'm excited for what is coming from this distributor and publisher.
Eric Buscemi and I met up again to learn Lockup, coming soon from Thunderworks Games. It's worker placement but with variable workers where the player with the largest total at a location gets the biggest benefit. Being able to place some of your workers face down so no one is ever 100% sure of who has which workers where. The game played well, with Keith (the developer and publisher) winning. I am excited to get this to the table soon.
Friday
Without going into detail, I had some bad appointments with companies on Friday morning. After a few bad ones, I met with Teri at Renegade and had a great conversation with her. We talked about the games that Renegade has been coming out with lately and about how they're changing things up and doing some different games, like Proving Grounds. They're also bringing some international games to the US, like Hex Roller. After this meeting, I met with Debbie at White Wizard where we talked about Sorcerer. I'm excited for this game and I'll be demoing it three times in July.
Friday night was the Punchboard Media Origins Meetup. We easily had 250 people show up and gave away a ton of games from great publishers. You can see all of the prizes and the winners here.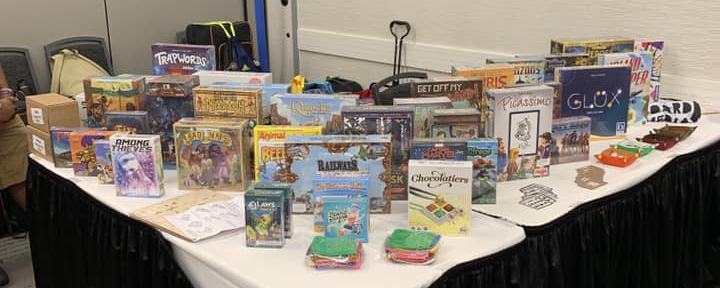 After giving away everything, Eric and I sat down with my buddy Dave and learned In the Hall of the Mountain King. It was a prototype copy, we started after midnight, and we were all shot from the long day. What could possibly go wrong?! We had a great time, despite how bad of an idea it was.
Saturday
While heading down to the hall, I ran into Chris Leder from Calliope. I got to try ShipShape, which is a fun time. It's a little bit puzzly, but without being too thinky. I enjoyed it a lot. I did some walking around the dealer hall before I had a meeting with KOSMOS. I'm looking forward to Imhotep: The Duel and Roll for Adventure. I then got to meet with Stephen Buonocore of Stronghold Games, now a part of the larger Indie Game Studios. It's always great catching up with Stephen and talking about games. Second Chance seems like a pure distillation of the flip and draw genre, and I have enjoyed how quickly it teaches and plays. I got to try Brikks at BGG.Con 2018 and am glad to see it hitting the US Market.
I spent the later part of Saturday in open gaming, enjoying the games that I had gotten at the show. It was nice getting to sit down and enjoy time with Sam and our friends. We got to play Second Chance, Wooly Whammoth, Brikks, Harry Potter: Hogwarts Battle – Defence Against the Dark Arts, Hex Roller, and Museum. I do wish some other folks who were in the open gaming room would have said hi, but that's just how conventions go.
Sunday
Our last day at Origins was a good one. I made sure to get Sam to the booths of our friends so they could see her, but it was also nice to say goodbye to the folks who I'll be seeing at Gen Con.
Overall, Origins is always a good time. It's the first big convention of the year and it's casual enough that I actually get to see and hang out with the friends I've made in the industry. I love visiting North Market and getting some great food there. It was also a much needed affirmation that while I've been down lately, I'm still valued both as a reviewer and a friend.
If you're in the Columbus area, or even a few hours away, Origins is a great time. It's got issues, but this year they had fixed a lot of the concerns from the previous years. No more tables actively trying to kill you. Much more open gaming, though it could have been advertised a bit better. The app had some issues with knowing where various exhibitors were, but they say they'll fix that next year. All in all, a wonderful time.