Build your fleet and master the high seas!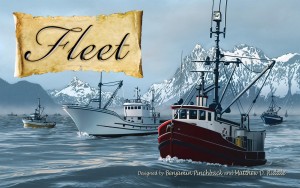 Kickstarter is a website where you can put an idea up and offer rewards and people can pledge money to your cause. While used for many creative endeavors, the main projects I've pledged money towards is boardgames.
One of the current games available to Kickstart is Fleet, a game that's about controlling a fleet of fishing boats. This game looks really nice, and seems to have a simple resource management mechanism and a rather unique theme. While I have other games that involve sailing boats and resource management, I don't have any other games that involve fishing. It looks like a lot of fun, and for $25, you can effectively preorder your own copy of the game, along with special bonuses that are special to the Kickstarter.
While it's being produced by Eagle & Gryphon Games, I think it's a game I'd like to add to my collection no matter who's making it, and I'm backing it. If you're interested, check out the webpage and consider backing it, or any other games or projects you think are awesome.