No Hospital This Time! – Gen Con 2019
Gen Con is the biggest board game convention in the US, and it's always a rush to go. Almost 70,000 attendees, tons of events, and far more going on than one person could ever see. That being said, let's talk about what I saw.
Gen Con this year was exciting and nerve wracking. After last year's medical issues for my wife, we were both anxious coming in. But we were also excited to see all of the new games. I had 242 titles I wanted to see at least in passing, which is a lot of games to see. Instead of going over all of the games I got to see and all the games I missed out on, let's talk about what got me excited while at the show.
The first big thing for me this year was the Fantasy Flight In-Flight Report. This felt like a Mac Expo, but for board games. It was a fun time to see the games and expansions planned for the games that I'm excited to play. There was a lot of talk about Star Wars miniatures games and role-playing games, which are not my thing. However, there were two games brought up that caught my attention. Final Hour, a new game in the Arkham Horror universe, was released at the show. I've played it once and while I enjoyed it, I also recognize that it's a very different game than the other games in the Arkham Horror line. I liked it and want to play it again. The other was Marvel Champions. This cooperative card game based on the Marvel universe looks a little simpler than Arkham Horror: The Card Game, but it also seems to be more focused on one-off sessions instead of an eight part campaign, resulting in more play opportunities. They showed the price as $60, which seemed high, but they also said something I never thought I'd hear from Fantasy Flight:
For every other LCG, serious players have had to purchase two or three core boxes to get full playsets of cards. This is a huge change and one I fully support. I'm really excited to give this a shot when it comes out in Q4 of 2019.
On Thursday, I picked up a number of games and accessories. I'm super excited for the Geek-Up bits for Quacks of Quedlinburg. I had a relatively free day, so I walked around the whole hall – I know I missed things, but I'm used to having to rush. I also saw a ton of friends and got to get some hugs. Later on Thursday my group entered a Trivia contest for charity – it was a good time and we won, resulting in us bringing home Dinosaur Island and the Totally Liquid expansion!
Friday I did a lot of walking around, had a few more press appointments, but overall it was much like Thursday. That night I took 3 bags of games over to the JW Marriott to take advantage of their large ballroom which was set up for open gaming. It was a good time once people showed up. We busted out Letter Jam and I must say, I love how the game works. It's thinky and clever, but with a very loose definition of winning, the focus is on having a good time. I also love the new Board Game Tables bag, though I do miss the small handle on top. That being said, the updates to the old bag are great. I'm still not a fan of these while in the exhibitor hall – I've seen too many people get side swiped – but they're great for game nights.
Saturday was more focused on checking out games instead of wandering around aimlessly. I got to sit down with a few companies and talk about upcoming games. I'm really excited for Paint the Roses coming from North Star Games. It feels like something new and exciting. It's cooperative and part game, part logic puzzle. I was happy to hear that there are PnP files available. The Mythos Busters meet up was on Saturday, and it was great to see so many of our bags being used, but it was also really nice to see the guys behind the podcast in person again. Immediately after the meet up, my group played in the Arkham Horror LCG event, The Blob That Ate Everything. It was a difficult scenario, but we all had a great time. After that, I got to hang out with some friends and actually play games at the convention!
Sunday came too quickly, as it always does. We did some walking of the dealer hall, saw a few more friends, and said our goodbyes. We packed everything in the car (by we, I mean Sam did… she's magical with loading the car) and headed back to Cleveland.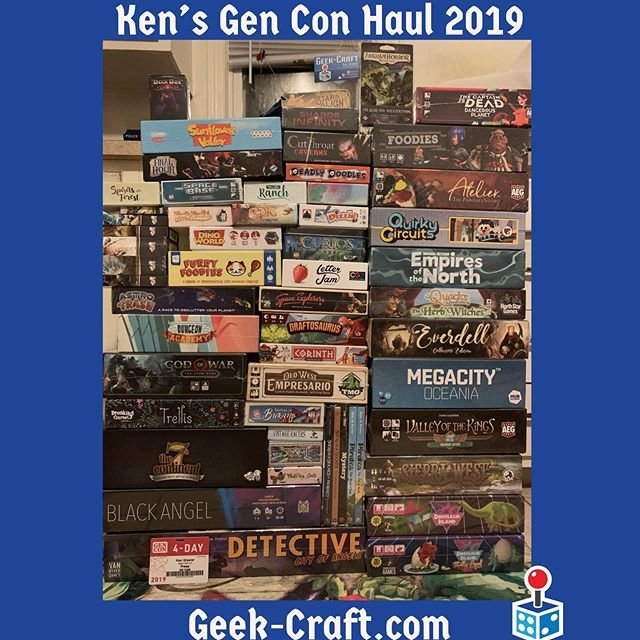 Of all of the games I picked up at Gen Con, I am most excited to play more of or learn to play God of War, Detective: City of Angels, Letter Jam, Dungeon Academy, and Imperial Settlers: Empires of the North. That's not to say I'm not excited about the other games. I made up a list of all of the games I got while at Gen Con, which you can see here.
If you see any games you'd like to try out and you're in the northeast Ohio area, maybe we can work out a time to meet up and play the games. I demo at Critical Hit Games on the east side of Cleveland and have started running games at Immortals Inc. on the west side of Cleveland. You can see my event calendar here.