Is This Thing Still On?
I've been away for almost a year. Let's talk about the changes in that time and what the future looks like.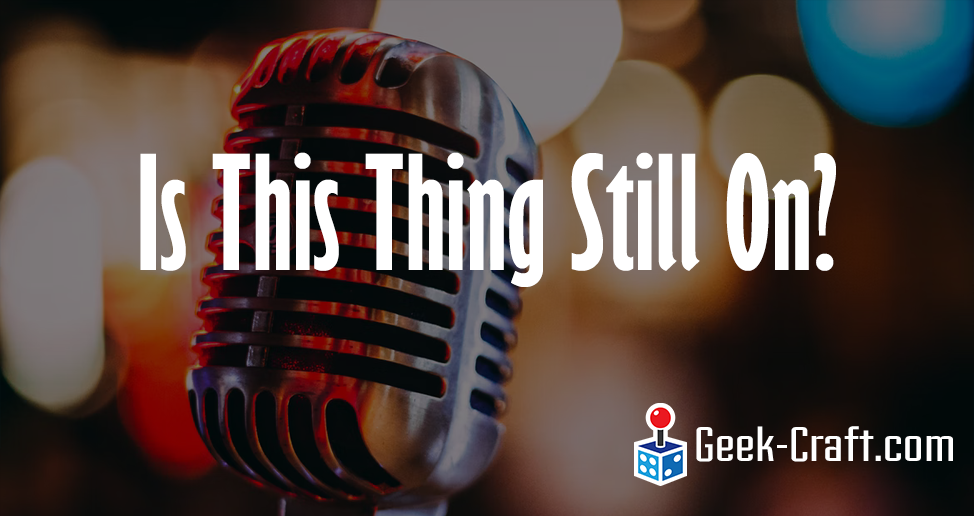 In some ways, the last year hasn't changed at all, but in other ways, it has changed so much.
Three Players
First and foremost, I'm now a father. Our daughter was born in October and she's been great. She does take up a lot of time and energy, but she's healthy and happy, so I'll take it. It means a lot more video games have been played instead of board games.
Video Games
On the PlayStation 5, I played through PROTOTYPE, which was fun. I played through Control which I really enjoyed until a bug made it so I couldn't get a trophy and platinum the game. Deathloop was very entertaining and the humor and writing were very well done. I got through one playthrough of Nier:Automata and I'm still scratching my head at that game. I want to do the next play-through and all that, but it's taking a break for now.
On the XBox, it's been a lot of games. I have enjoyed the gamification of their system the most of the current consoles. There are still some games that stand out despite playing a decent number of games. Rain on Your Parade is a great puzzly game about being a cloud. I've enjoyed the occasional fighting game and Mortal Kombat 11 really scratched that itch for me. I started playing through all of Halo with the Master Chief Collection and some of those games are solid, while others… not so much. I bought Hades on PC and on Switch, but it's still worth playing on the Xbox for the achievements. Halo Infinite was a go to for a number of weeks, but I got tired of chasing the lackluster prizes and fighting their design, so it's been backburnered. Recompile had a few weird spots, but it was a very fun 3D Metroidvania style game. Sam and I played through all of It Takes Two and really enjoyed the story and the gameplay. Wonder Labyrinth was fun but the end fell a little flat for me. Finally, I started playing Deus Ex: Mankind Divided. I know I'm 6 years late to that party, but I've enjoyed what I've done so far.
On the Switch, it's also been a variety with some games of note. Metroid Dread was entertaining, but it felt a little rushed and expensive for the 20-ish hours I played it. Beast Breaker is best described as Peggle Combat and it was very entertaining to play with a fun story and interesting characters. I picked up the Castlevania Advance Collection and went through Circle of the Moon, Harmony of Dissonance, and Aria of Sorrow. Metroidvania and Roguelike / Roguelite games are some of my favorites. The latest time sink has been Pokémon Legends: Arceus. I just beat the main story at around 40 hours and really enjoyed a number of the changes to the formula. A few things felt like they were missing, but it's still been a very enjoyable game to play.
Board Games
As for board games… that's been a lot quieter. I still buy the occasional game and still get sporadic games in the mail to review, but it's been a lot of reading and not a lot of playing. The most recent game I played at not home or the hospital when Sam went in for the baby was in June of 2021. There have been 37 plays of 20 physical games since then. A number of online games as well, but those aren't quite the same. There was consideration for setting up a regular heavy gaming thing with a couple of friends, but Omicron really hit our area hard and made the county I live in one of the worst in the nation for infection rates, so that all got canceled. I miss gaming, I miss demoing, I miss hanging out at the game store.
In review related news, Punchboard Media has dissolved. I think the landscape has changed, especially with the pandemic. I'm sorry to see it go but am glad to have made many friends through the group.
3D Printing
The printer has been decently active, with toys for the baby and inserts designed for games that haven't been played. A number of fidget toys and simple prints have kept me busy and allowed me to not be as impacted by my mild dermatillomania (skin picking disorder). I've also been making and selling game pieces both to friends to upgrade their game experiences and to publishers and designers for prototyping.
The Future
What does the future hold? I wish I knew. I keep getting asked if I'm going to GAMA / Origins / Gen Con / insert convention here, and I keep having to explain that between a 4-month-old and an immunocompromised wife, I do not feel safe attending these events. I see the rules posted about requiring masks, but then I see photos from events where that's not the case. I get the occasional invite to a local friend's house for a small game night, and I have to decline because of the risks I'm not willing to take.
Of course, that means more delays for the board game reviews and demos I enjoy doing. I want to go back to gaming with friends. I want to be able to feel safe giving hugs to the people I haven't seen in almost two years. But I don't. And I don't know when I will. Lately, I've been so frustrated and exhausted and angry with the people who continue to act like the pandemic is over. But as the one who is being responsible and careful, I am restricted and unable to do the things I want.
What's Next
For the next post… I don't know. I might start doing some more write-ups about video games. Maybe I'll talk about aspects of the board gaming industry. I've been wanting to do a compare and contrast series to discuss two things at the same time, like inserts or games. I don't know when I'll be up for another post, but I know there's going to be a shift in content for at least a while.
If you have something you'd like to see me cover, please let me know.