Post Origins – Short Version
I'm still dealing with coming back to the real world, but Origins was an absolute blast. More people than I've seen in years and quite a few surprises. Here's a quick rundown of the show highlights for me.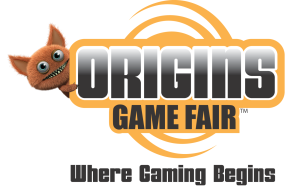 Overall, Origins seemed to be bigger than it's been in years. More vendors, more attendees, and more fun. There were still issues, but if you have been to Origins before, you know it wouldn't be Origins without the issues. Typos in the event book, events were cancelled or changed without notice, and lines for registration were terrible, especially on Saturday. But despite the efforts of those in charge to ruin the show, it just keeps coming back. The halls were busier than last year and it felt like there was more going on in general.
New Games
I participate in the math trades most years. In a math trade, you determine ahead of times what games you'd like to trade and what you'd like to get in return. This trade can work with two people or end up with many people passing games in a large circle. One person can be involved with multiple trades as well. I traded ten games this year and came out very happy. An unpunched copy of Ogre is the obvious big item, but I also picked up the Pathfinder Adventure Card Game, Lady Alice, Dungeon Twister: The Card Game, Augustus, Cheaty Mages!, Amalia Promo figure for Krosmaster Arena, the BGG.Con edition of NOIR, Dungeon Fighter, and a set of small card games. While daunting at first, math trades are a lot of fun, can be helpful in getting rid of games you aren't playing, and most of the people involved are a great help to anyone new to the idea. I also picked up a few games in the exhibitor hall.
No, really, just a few.
First Timers
My friends Jim, Gillian, and their son Iain got to go to Origins for the first time. The show can be a bit intimidating for new people, but it's still one of the most approachable conventions I've been to. They got to meet lots of gamers, including some celebrities like Tom Vasel, and picked up a variety of games. They also do reviews as Open the Box Games and have done the video editing on the videos I've posted. They even volunteered some of their time at the Stronghold Games booth, helping spread their love of games. As you can see, Iain is excited about the haul this year.
Playing Games
I actually got to play games this year! I'll give more details about what I thought of the games later, but I got to try Splendor, The Builders, Pathfinder Adventure Card Game, Roll for it!, Sheriff of Nottingham, Fun Farm, as well as a few unpublished games. Getting to sit down and play games was a lot of fun and was quite the change of pace for me compared to previous years.
Surprises
There were a few surprises at the show, but the best one of all was proposing to my now fiancée during a game of Compounded. A huge thank you to Darrell Louder (the designer), Chris Kirkman (the publisher) and the entire Dice Hate Me Games family. You helped make the day even more special.
There will be a more thorough post later this week, but for now, ask any questions you have and I'll try to make sure they get answered in the long version!