May in Review – Lots of games and a giveaway!
May was a busy month, but in a good way. Lots of games got played, but not a lot of repeats, which means not much was done for reviews. But this sets me up for June to do reviews and talk about Origins. So let's look back at May in review.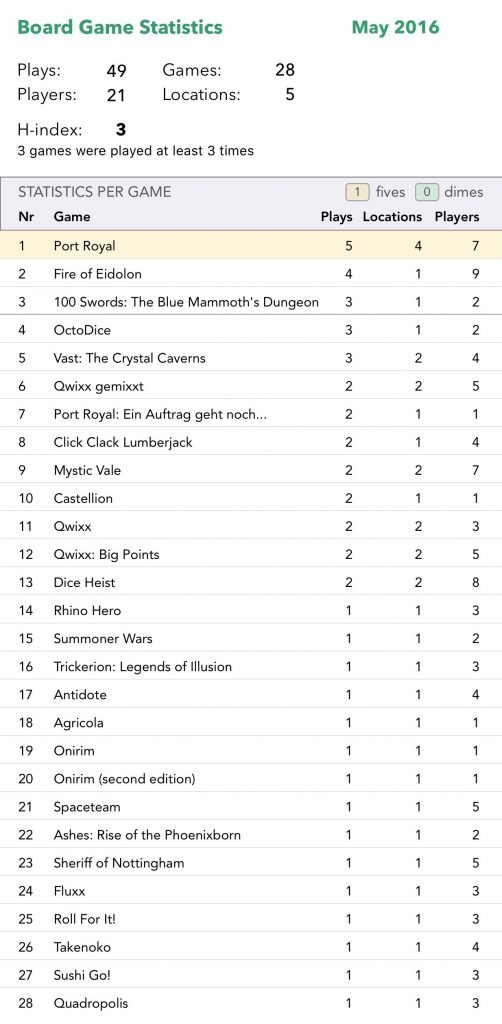 I got to play a lot of new-to-me games with a lot of new players. Not many repeat plays, but some really fun games I'm hoping to play more and review this summer.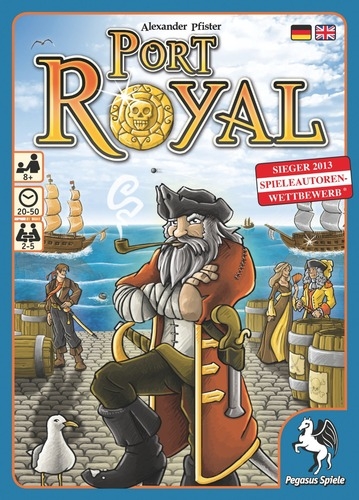 Port Royal is a push your luck card game where players are inviting ships into the port to collect the gold that they carry or using the gold to acquire new characters. Different characters have their own uses and combining certain characters can lead to a big payoff. I love this game because it's easy to learn, quick to teach, quick to play, and something that people immediately want to play again. The art is by Klemens Franz, known for his work with Agricola and many other games by Uwe Rosenberg. As much as I love the game, I love the expansion even more. It adds more characters to the game; contracts which add a new element to competitive play or can be used in cooperative play, as well as solitaire rules. The game is a fun race against a small deck of cards and the player has to really work the cards to get the best payout each turn. I love this game and cannot wait for it to come out in the US. For now, you can order your copy of the base game and the expansion through GameSurplus.com.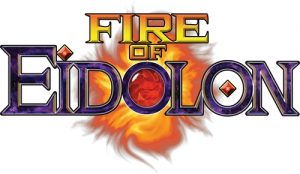 Fire of Eidolon is a prototype of a game coming to Kickstarter on July 14, 2016. It's a cooperative game where the characters are archetypes from dungeon based video games, such as a Paladin or Ranger. Each character has its own special ability and once-per-game ability. The game play feels a bit like Forbidden Island, but it stands on its own due to the dungeon network instead of free moment as well as the art. In the prototype, there are eight different difficulty levels. Players get the game pretty quickly and it works from one to six players, which helps the game work with most gaming groups. I enjoy the game and can't wait to see what else Ian at Magic Meeple adds to the game.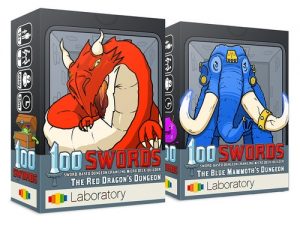 100 Swords is a one to two player deck building game that has solitaire options that Laboratory Games sent to me to check out and review. It's a filler length and style of game, and while I enjoy playing it and the solitaire challenges, the rules are somewhere between inconvenient and frustrating. There is a rule card in the small deckbox, but to actually play the game, you have to go online to get the full rules. Most of the rules are straightforward, but having to get the rules from a website is just a step that shouldn't be needed. Once you get past that, the game is light and fun. I enjoy the decisions of moving farther into the dungeon or saving cards to get other cards. I also really like the art. I picked up the expansion decks and am curious to see how they play compared to the base sets.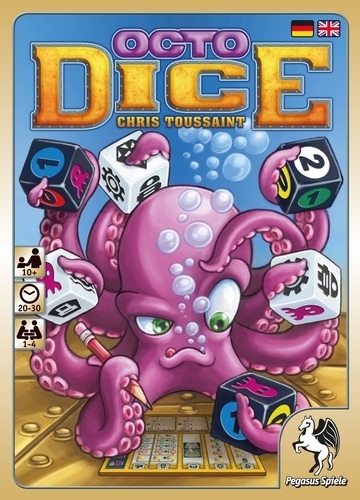 OctoDice is a fun take on dice combination where the white dice determine which actions you can take and the black dice determine what color or quantity that action will impact. The other players have to pay attention to what the active player is doing as well, because they can copy an action each time around the table, which can result in players getting a lot of the combos they want out of turn. The game also has a solitaire set of rules where the player gets nine rounds to play instead of six. I really like this game and am excited to see what the other technology options do to change the game. My one complaint with the game is that the dice are far from regular and the paint job on the dice is less than expected from AEG. Even with the issues with the dice, I still enjoyed this game and want to play it more.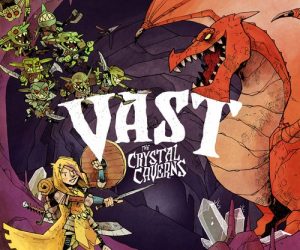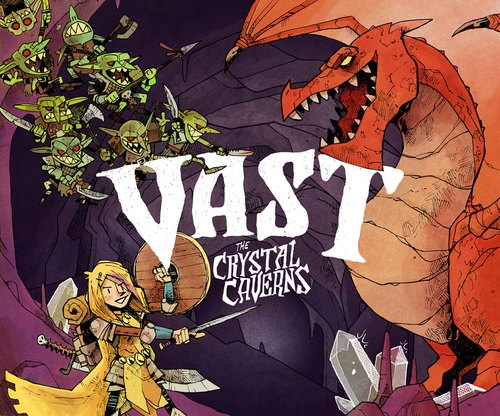 Vast: The Crystal Caverns is a one to five player dungeon crawl where players can choose to play as a female knight, a horde goblins, an awakening dragon, a cursed thief, or as the cave itself. Each character has a win condition that is usually based on who else is in the game. For example, the knight has to kill the dragon, but if there is no dragon, the goal becomes smashing crystals found in the cave. With each character playing differently, there is a lot of room for confusion and getting players on board takes some time. The interactions between players can sometimes be a little tricky, but once everyone gets the rules, the game is really fun and engaging. I have played the dragon in a three player game, the knight in a two player game, and tried the goblins in a solitaire game, and every time I've enjoyed both the game immensely. I'll be doing a full write-up about Vast soon, but if you're intrigued, you can pre-order the game here.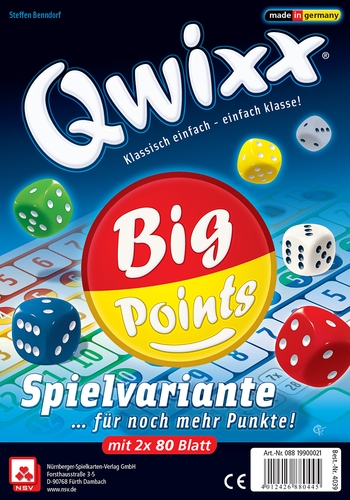 Qwixx is a game I've talked about and even reviewed. It's the first game I got to play 10 times this year. I still enjoy playing it and there are now additional scorepads you can buy that change the game up. There's the Big Points scorepad, where players have two extra rows to make their scores gigantic. The gemixxt scorepads introduce two new twists on the game. On one score pad, the numbers aren't in the regular order, leading to players having to check every row to figure out what the right move is. On the other, the numbers change within a single row, leading players to have to plan their moves and watch for what color and number is next. I really enjoy all three of these changes to the base game of Qwixx, but they do increase the time it takes to play the game.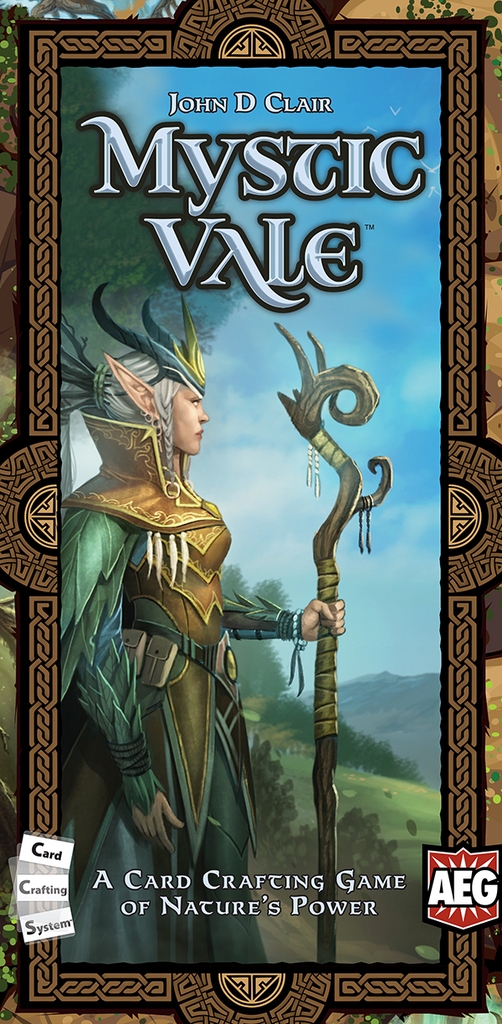 Mystic Vale isn't out yet to stores, but a select number of volunteers for AEG's Vanguard got early copies of the game. The game combines push your luck mechanics with card crafting. If you enjoy deck building games, Mystic Vale may be up your alley. Instead of buying cards and adding them to your deck, you instead buy advancements and add them to the sleeves you've played that turn. The advancements are designed to impact a third of the card, so a player can add up to three advancements to a card. The push your luck element comes from the decay symbols on the cards. Players can continue to play cards from their decks until they show four decay symbols. The game is pretty easy to learn, but the card combinations make each game change drastically. I'm really enjoying the game and I can't wait to play it more.
49 plays of 28 games kept me busy in May, and June will be busy with Origins, but I'm pushing to do more demos at Critical Hit Games, more reviews, and getting more games played. There are a few games, I'm hoping to pick up at the convention and get to talk about here. If you're going to Origins and want to play a game, let me know!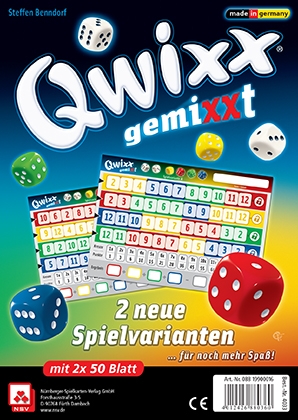 To end May and celebrate gaming, I picked up my copy of Qwixx gemixxt from GameSurplus.com and they saw my love of the game. They sent me home with some extra copies of the scorepads to giveaway! I'll give away one set of score pads and add another set at 50 and 100 entries. If you're interested, please sign up below! This contest is open to anyone, as these score pads are rather small and shouldn't cost much to ship. I'll also do Origins delivery if you happen to be going to the convention!