Punchboard Media
What? You haven't heard about this new thing called Punchboard Media? I suppose I can tell you about it and why I joined.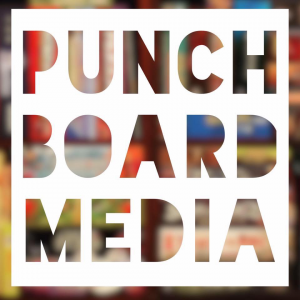 Punchboard Media is a grouping of a number of smaller reviewers, podcasters, and other board game enthusiasts who want to support each other and build each other up. We also want to spread a message of fun and acceptance at the game table. In fact, we even have a mission statement!
Punchboard Media is a supportive network of board game media content creators committed to promoting games as a way to bring together families, friends, and board game enthusiasts across the globe, while advocating for openness, fairness, and inclusion in the community.
While I know that I'm fortunate to have friends of different histories, nationalities, beliefs, and ideas, not everyone is as inclusive as I try to be. I want to work with the other members of Punchboard Media to promote a sense of belonging at the game table. A good friend of mine, Scott Morris, said something that really resonated with me.
One of the reasons I love board games so much is that when you sit at a table with fellow human beings, nothing else matters. Race, sex, religion, politics, beliefs, nothing. Everyone is just… human… and enjoying their time… together.

I have seen gaming break ground, boundaries, and through ceilings. Gaming connects us. It transports us. It allows us to go on an adventure, together, to someplace we don't normally go.

It doesn't matter if your past, present, or future thoughts and ideology might conflict with those around the table with you… With a great game and good company, wonderful and amazing things can happen.

And in the end, we laugh. We smile. We triumph. And we enjoy the experience… With each other.

That's why I love board gaming.

If you look across the table and see anything other than friends, you should question your perspective.
Another reason I've joined is honestly, I've burnt out a bit recently with reviews. I've been focusing on demos, but even those have slowed a bit. But things have been picking back up, and I want to keep up that momentum. I believe working with the other groups and individuals in Punchboard Media will help keep me active. Not just on my own site, but in collaborating with them as well. I want to rekindle my passion not just for playing games, but sharing my passion with others.
So what can you do? Check out PunchboardMedia.com. Follow us on Facebook, Twitter, and Instagram. Maybe check out one of the other contributors and fall in love with what they do. But as much as I want you to read and listen and watch, I want you to enjoy gaming and everything it offers. Play a game with a family member, a friend, or a stranger. Check out a new game. Talk about gaming and why you enjoy it.
Going to Origins? We're going to have a launch party there! Watch social media and join us if you can!
Join us at Punchboard Media, where we all bring something to the table.