Don't shiver, don't shake – Quiver review
Quiver Review
I'm always looking to check out board game accessories as much as I am board games, and new ways of carrying board games intrigue me. I heard about the Quiver through some friends and reached out to them for an opportunity to review their card-carrying case.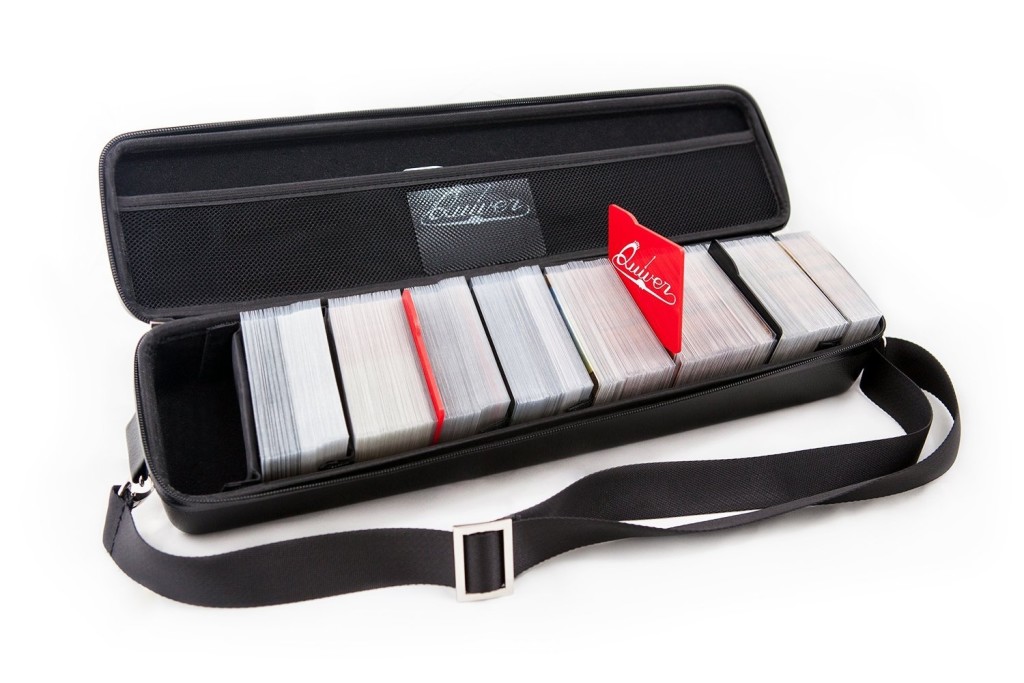 The folks at Quiver were kind enough to send me one to check out for demoing and game-toting purposes. First, I'll talk about the concerns I have with the Quiver, but the item certainly has some good features and does what it's designed to quite well.
First and foremost, you'll want to fit more into the Quiver than it'll hold, not because it's too small but because it does a great job. That is not a knock against the size of the product, but rather a personal want to somehow carry my entire game collection around with me. It's designed to hold, "1350 new cards, 770 sleeved cards, or 625 double sleeved cards". This is an accurate count, but it means you probably won't be putting your entire game collection into one. It will, however, hold a number of games quite well. It's a great size for holding enough games for a night or maybe a gaming weekend.
Currently in mine I have Eminent Domain: Microcosm (sleeved), some business cards, three plastic cups for the bits for Ashes: Rise of the Phoenixborn, all of the cards from Ashes, Mystery Rummy: Murders in the Rue Morgue, Mystery Rummy: Jekyll & Hyde, 12 Days of Christmas, both the red and blue sets of cards for Encounters: Bravest Warriors, the cards for Würfel Bohnanza, and a deck of regular cards. On the top, I have the dice for Ashes and rulebooks for most of the games. There's still room for about another deck of cards.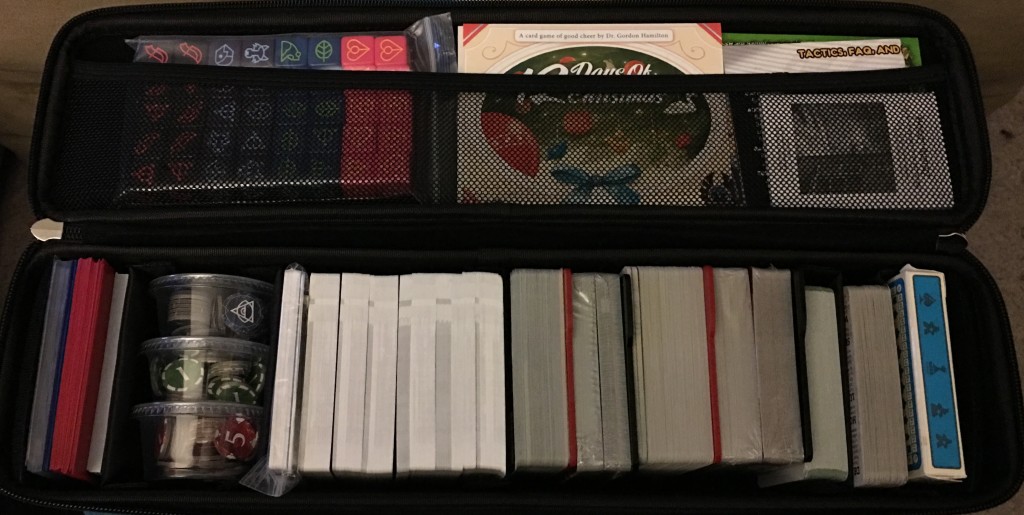 Another concern that I have with the Quiver is that the zipper is very tight. The product is designed to keep the contents dry and safe, and I certainly don't doubt that it would prevent anything from getting it, but getting it open or closed can sometimes be a little frustrating. I've been told that the zipper will get a little looser over time, but at first it is a tight fit.
With the adjustable shoulder strap over my shoulder, it feels a little unwieldy unless I strap it across my back from one shoulder to the opposite hip, which feels great. The wrist strap is a nice accessory for carrying around at the game store, and you can easily attach both options at the same time.
The Velcro dividers work well and fit the case very nicely, though they work better when the Quiver is filled up due to the contents possibly moving around while the Quiver is being carried. The plastic separators are beastly and heavy. They're about as thick as seven cards and the tabs stick up just enough to be useful but not too tall to be obnoxious. The sleeves that it comes with are normal sleeves, nothing to write home about, but great for a game that's 100 cards or less.
After using it for about two months, I'm quite impressed with the Quiver. It holds a nice number of games, feels like it is solidly built and will hold up to regular use and abuse for years to come. If you are considering one, it's worth the $40 on Amazon.com if you're in the market for something to carry around a number of games in. I can also see this being a very useful accessory for someone who wants to transport a number of Magic cards or other CCGs, but also great for someone who wants to carry around a few games that they love to weekly meetups or events at their local stores.
Hope you liked this Quiver Review.