A Year Of Gaming – Week 12: Wash Your Hands!
In a world where you can't go to your favorite local game store to play board games, what do you do to pass the time? Video games of course. Oh, and wash your hands!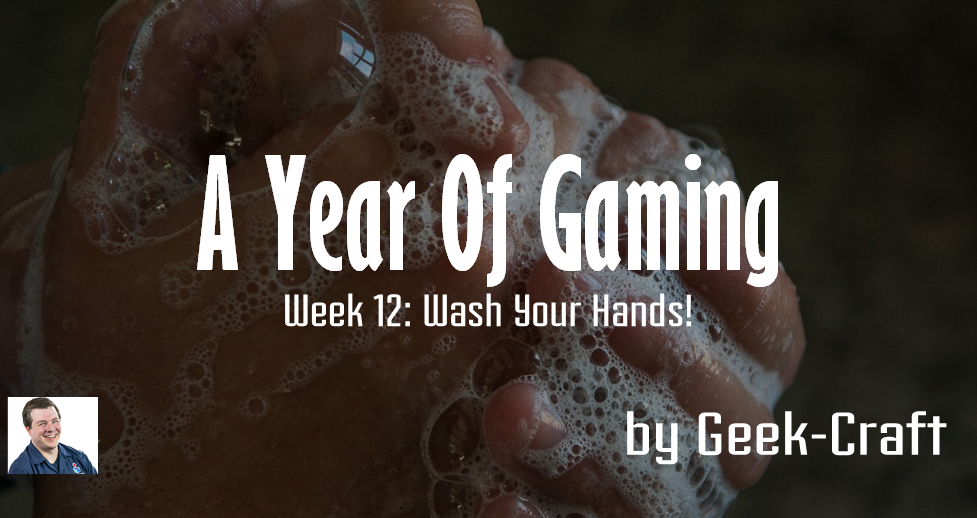 This article references the time between  March 16th and March 22nd, 2020.
Plays
I'm basically not leaving the house unless I need to, and as that has sapped a lot of my energy, I have no board game plays to report. However, I've been enjoying Witcher 3 on my Nintendo Switch and Hungry Cat Picross on my iPhone. I also watched my wife play Untitled Goose Game and I've now lost her entirely to Animal Crossing: New Horizons. If you're a fan of the game, I am working on a Google sheet to help you track your bugs, fish, fossils, and events. It's a work in progress, especially since I've found a number of things new and different for this version of the game. You can see it here.
Acquisitions
No game acquisitions to speak of. A number of the local game stores have closed their doors for the time being, something I think is unfortunate but necessary. I hope to see them on the other side of this.
Events
I've considered doing some Jackbox Games, Tabletopia / Tabletop Simulator, or just having fun playing video games together. If you'd be interesting in participating in any of these, please let me know.
Oh, and of course, you should WASH YOUR HANDS! As my wife is immunosuppressed, this is a scary time. Watch the below video to learn more about the Coronavirus.