A Year Of Gaming – Week 49: So Ger-Many Games!
This past week has had a lot of games hit the table and new games show up in the mail from overseas. There are a lot of games to go through if Europe for it.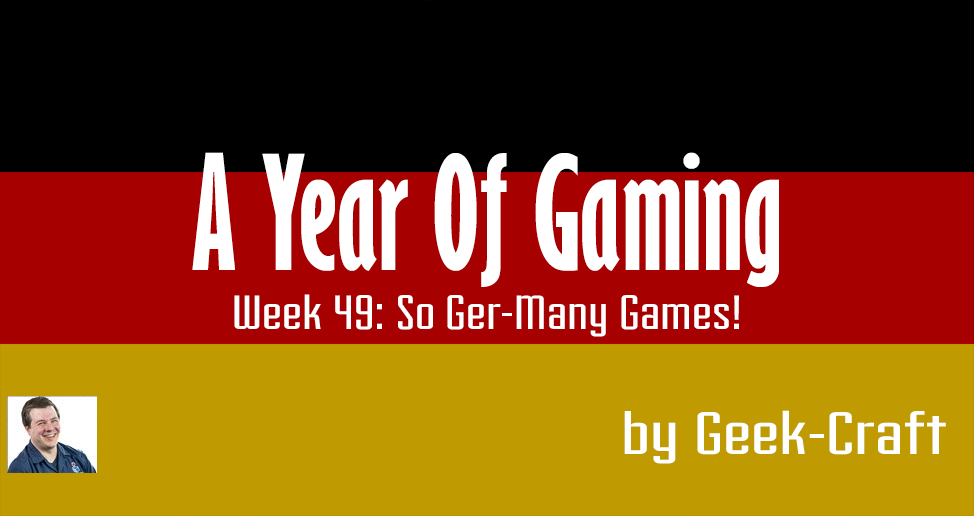 This article references the time between November 30th and December 6, 2020.
Plays
I'm been pushing to get 40 different games played on BoardGameArena. I met Xate through watching the streams that Michael from Hub Games does and we've become good friends. She had reached out about playing the Crew, which I was all for, and then we just started playing other games in between. This past week has lead to us playing Marrakech, 6 nimmt!, Dice Forge, Lost Cities, Lucky Numbers, Takenoko, and Targi. I really appreciate the interface that BGA has designed because it actually helps you play the game, it doesn't just act as a physics simulator like Tabletopia or Tabletop Simulator. All of these games work well, but I was surprised at how well Dice Forge worked. The physical game has a table presence, but we did a two-player game in about 15 minutes, which is amazing.
I've also gotten in some games with Eric Buscemi of The Cardboard Hoard. We did Boomerang and Sushi Go! at the same time, resulting in us clearly having some fish while in Sydney. We also did Kingdom Builder, Luxor, and Welcome To, all of which were fun. I have to say, getting in regular gaming, even if it is digital, has been really nice lately.
Finally, I taught Michael Jaipur, which he hadn't played before and we both had a solid time.
If you want to play something with me on BoardGameArena, please let me know!
Acquisitions
I got two boxes of games this week. One from Deep Water Games with the two expansions for Sovereign Skies, as well as upgraded tokens and a playmat. I also got a box from Germany that I've been excited to receive for a while. NSV makes some great games. They're known for Qwixx and have partnered with Pandasaurus Games in the US for releases. However, they have some games that haven't found their way to a US publisher yet, and they sent me some of those titles. They included four Minnys from their catalog: Hamstern, Volle Weide, Wolle, and Honeymoon. These are TINY little roll and write games. The pads are only 9×6 cm, about the same size as a playing card. Each game comes with a 12mm wooden die and a small wooden pencil with an eraser. The best part is that the rules are a part of the packaging – The packet is sewn shut and is easily opened. It's not great for putting the game away, but a simple plastic bag works great for holding the contents of multiple games. They also included Anubixx, Qwixx on Board, Qwixx Bonus, and Traxx. I love Qwixx as a series of games and look forward to seeing what the new stuff brings.
Other
If you are looking for holiday gift suggestions or want to talk about what game would be a good present to give, please let me know. I love helping folks find games that will make them happy!