A Year Of Gaming – Week 48: Saffron, Salmon, & Sales
A slower week, but there's something fishy about the set up to this joke. I think it's just a red herring.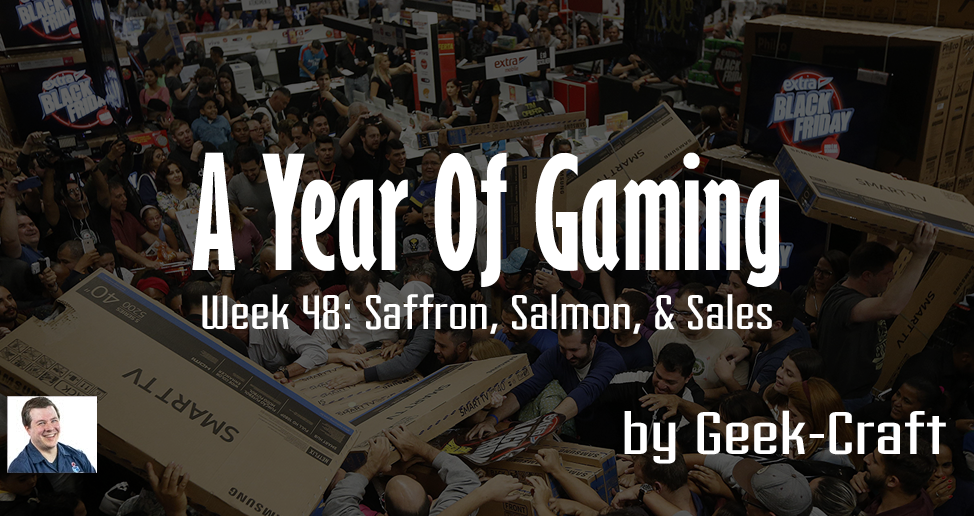 This article references the time between November 23rd and November 29th, 2020.
Plays
I tried digital versions of Fleet and Herbaceous this week. Fleet was on BoardGameArena and Eric didn't wipe the floor with me this time. It's amazing how well that game plays. Herbaceous was on Tabletop Simulator and worked pretty well, even if I did terribly. I'd love to play more games on BGA or any other platform.
I also taught my wife Adventure Mart last night. Despite me winning, we both enjoyed the game and I think she has some crafty plans for the future based on how cute she thought a number of the items were.
Acquisitions
Two new games this week. My copies of Prisma Arena and Adventure Mart finally came in. I'm super excited to play both of these games as they're very colorful and well-produced, but also games that I know I'll enjoy playing.
Other
It was overall a slow week of gaming, but that also makes sense with the holiday. I'd love to break 40 games played on BGA, so if there's something you'd like to try out, please let me know. I'd also love to teach some games on Tabletopia, so please reach out if you wanna play!