A Year Of Gaming – Week 18: Playing With A Full Deck
No new games in boxes, but some new games through cards this week. Of course, you should only give them a look if you have the heart.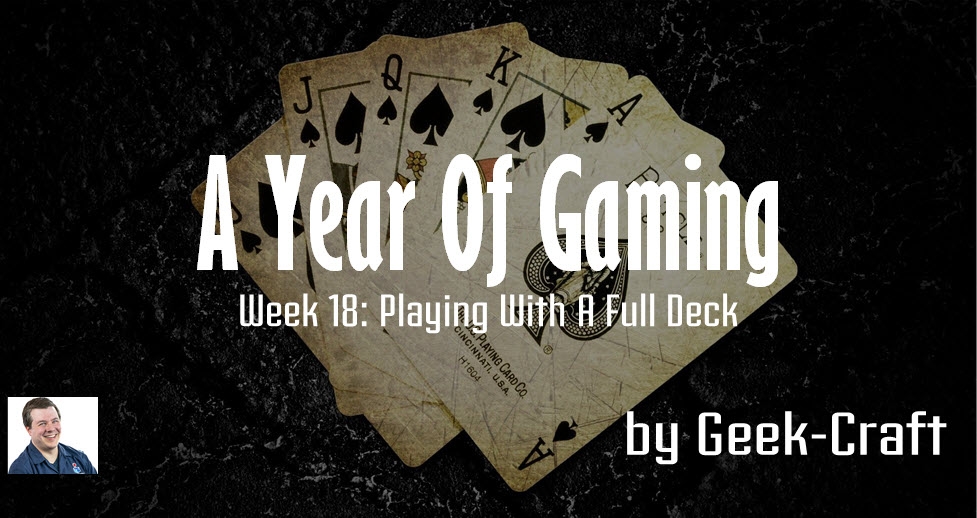 This article references the time between April 29th and May 3rd, 2020.
Plays
No board games played this week. Been trying to focus on making masks with my wife for friends and family. I am also working on my inventory system and a post about how it's actually working at this point.
Acquisitions
No games, strictly speaking, but I did receive some decks of cards from Bicycle after chatting with them a little about their How to Play app on the web, iOS, and Android. It's not perfect, but right now learning some new games might help you or your family pass the time. I looked up their rules of Cribbage, one of the more complicated traditional card games that I know, and the rules were explained decently well. The page and app both say to reference an illustration that isn't there, but tracking scores to 121 isn't too difficult for most folks. I love playing with cards – shuffling, feeling them splay out and having the edges line up perfectly. It's a silly thing, I know, but it's something I've always enjoyed. If you are looking for some other games to play and have a deck of cards, give their app a look. Maybe you'll find a new favorite.
Events
My FLGS Critical Hit Games will be have a limited reopening on May 12th. I'm happy that they'll open back up, but it won't be a spot for open gaming for some time. I don't know how long it will be before we can have open gaming at the store, but it's something I look forward to.