A Year Of Gaming – Week 42: Live From Cleveland!
Two different video streams? In one week? How strange… Wonder if this is just another side effect of 2020.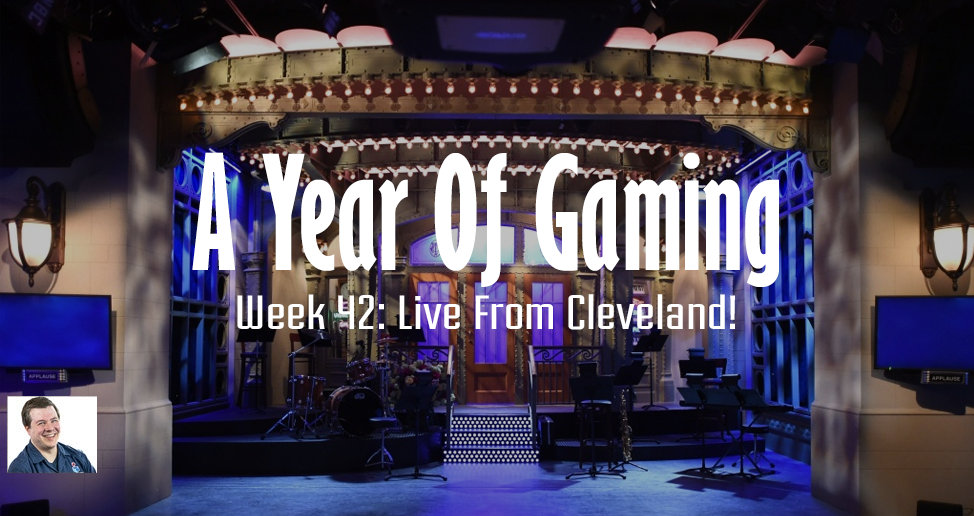 This article references the time between October 12th and October 18th, 2020.
Plays
I managed to get a good bit of gaming to happen this last week. On Wednesday, I taught a friend how to play my dice rolling, city building game. It's far from published, but it was nice to get more feedback on it.
I took Friday off of work and got to play a few games with my wife. First was Billabong, a personal favorite. It's a silly game about racing kangaroos, but it's a fun puzzly kind of race. After that we did two games of Thanos Rising. We did not do well, but it was fun getting a co-op to the table with her.
I also learned Tavern Tales, a set collection card game that's on Kickstarter now. It's fun and light, fitting into the Dungeon Drop universe quite well. Saturday I sat down again to play it and we actually recorded the playthrough. You can watch that here:
Finally Michael Fox from Hub Games and I sat down and did over two hours of gaming and chatting yesterday. It was a wonderful time, something I'm looking forward to doing again. If you'd like to be in the audience or even join us, let me know. We played three games of Can't Stop, two games of Lucky Numbers, and two games of 7 Wonders Duel on BoardGameArena.
Acquisitions
I made another trip to the local Gaming Goat and picked up a copy of Orleans Stories for a friend, and it's difficult for me to walk into a game store and not pick something up. I was eyeing Alma Mater the previous time I visited the store, and after some talking about the game with friends, I decided to bite. They had Aftermath, an Adventure Book Game which intrigues me a lot, on the sale table. After teaching Thanos Rising to my wife, who is a big Harry Potter fan, I saw and picked up Harry Potter: Death Eaters Rising. I also got Orchard, a great little solo game that I'd made a print and play copy of previously, but I wanted to support the designer.
I'm a big fan of GameSurplus. They do a lot of import games and are about 20 minutes from my in-laws, which means visiting during holidays. However, they've decided to close down, so I got my last order from them. Billabong is a kangaroo racing game which is a personal favorite. It's overpriced, but it's still really fun to play, so I picked up a copy. I also ordered Forgotten Waters, a Crossroads game with pirates. Now to figure out who to play that one with, since you can do remote play easily. Horrified is another co-op game that intrigued me and thought my wife would enjoy, so that got added as well. Musical Chairs is a silly game that looks interesting, and they had it on sale, so in the cart it went. The last game is Ride the Rails, as I enjoyed Irish Gauge and would like to try some bigger and heavier train games.
Finally I got review and demo copies of Chai Deluxe Edition and Cindr, both games I'm excited to play and show off once that's a realistic option.
Other
I enjoyed playing games with Michael and Eric. If you are looking to demo your game or just want to play something online, please let me know. I'm also trying to figure out how to best set up a streaming set up for multiplayer solitaire types of games, such as Cartographers Heroes. If you have suggestions, please let me know.