A Year Of Gaming – Week 41: Sword Waggle
A lot of different games talked about this week, including a number of acquisitions. Shakespeare said, "All the world's a stage, and all the men and women merely players." I'm just one of those players.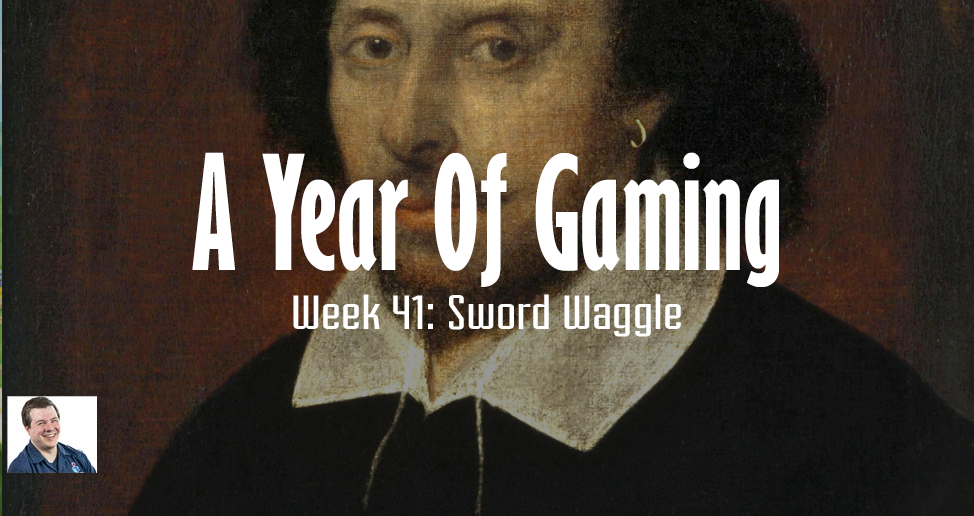 This article references the time between October 5th and October 11th, 2020.
Plays
It's been a decent week for getting games played, mostly digitally but a few physical plays as well.
7 Wonders Duel got played on BoardGameArena four more times this week. I really enjoy the game play and the way that the drafting is handled for two players. I think my favorite games are the ones that come down to the wire for the automatic wins. It pushes the strategy a bit and makes the game tenser.
Three more plays of Can't Stop, which I love as a very quick game that is perfect for quick lunchtime play. I'm not sure how the website knows how poorly physical dice treat me, but I still enjoy this classic.
Lucky Numbers was a back to back game against my buddy Sean Jacquemain from Kids Table Board Gaming and DailyWorkerPlacement.com. I took the first game, he took the second. This is simple and fun, much like Can't Stop.
I did a digital game of Cartographers on Happy Meeple, which is a pretty good interface. I do wish they had full solo rules as an option, but it's a good enough AI or you can pick up games with friends or random other players.
Cindr is an upcoming game from Smirk & Laughter. It's a dice rolling dragon dating game where you can play as adventurers who can get burned. It's silly, but I like the way the game plays. I do want to try it physically, but I very much appreciate that it allows the players to give their characters a name and pronouns.
For physical games, I got Black Sonata to the table twice and my brain hurts. Not because it's a difficult game to understand, but the math and logic that went into the back end is amazing. I enjoy the game, especially as it's a very unique title as a solitaire deduction game. It took a little bit to really get the game, but it's solid. I'm looking forward to trying the expansion as well.
I tried another Exit title. This time it was Dead Man on the Orient Express. I appreciated the murder mystery puzzle which is a part of the whole story. It helped the game mix the story and puzzles well. I liked most of the puzzles, though the one was a little fiddly to deal with.
I tried a hand of Regicide, a combat game that uses a regular deck of cards. It's… fine? I mean, the game play is okay. It's a lot of flipping the single reference card over to remember which suits have which powers and then which ranks (Jack / Queen / King) have how much attack and health. It seems like it would have been better as a game to play with a regular deck of cards rather than charging $15 or more for the game.
The final physical play was Super-Skill Pinball: 4-Cade, which is a really long title for a tabletop pinball game. the rules are a little clunky at first, but once they make sense, the game flows well. The boards are all very nice quality, maybe a little thin, but still well done. I love the pinball tokens, but hate trying to pick them up. It's a game I see trying more solo.
Acquisitions
I participated in some retail therapy this week, visiting a few local stores and picking up a few titles that I've been excited about trying. Of course, going to a game store and getting only what you came for is impossible, so I ended up with more than I planned.
I picked up the Innsmouth Conspiracy expansion for Arkham Horror LCG from Critical Hit Games. I haven't played in well over a year, but I do still enjoy the idea of this game. While at the store, I saw Super-Skill Pinball: 4-Cade, which I also picked up.
I visited the local Gaming Goat, run by my buddy Eric, where he had set aside Rome & Roll for me. City building and roll and write? That's really all it takes sometimes. Of course, he had a bunch of titles on sale, so I also picked up Orleans Stories, Orleans: 5th Player Box, Res Arcana: Lux et Tenebrae, and Thanos Rising.
Finally I stopped into Immortals Inc. where they had set aside the BattleTech Beginner Box and main box for me. My good friend Bryan picked them up and it seems like a game we could play over the internet without too many issues.
The Exit game mentioned above also arrived, as did Black Sonata, the Fair Youth expansion for it, and Regicide.
Other
I was sent a review code for 3000th Duel, a Metroidvania / Souls style game for the Nintendo Switch. It's also on PC via Steam. I like it well enough so far, even if the bosses can be REALLY difficult. There are some language issues, but given that the team is from Korea, it happens.