Gaming in 2021 – Week 3: Shipping Sharps and Sisters
A few board games played this week, and lots of video games picked up. Also some talk about Twitch and streaming.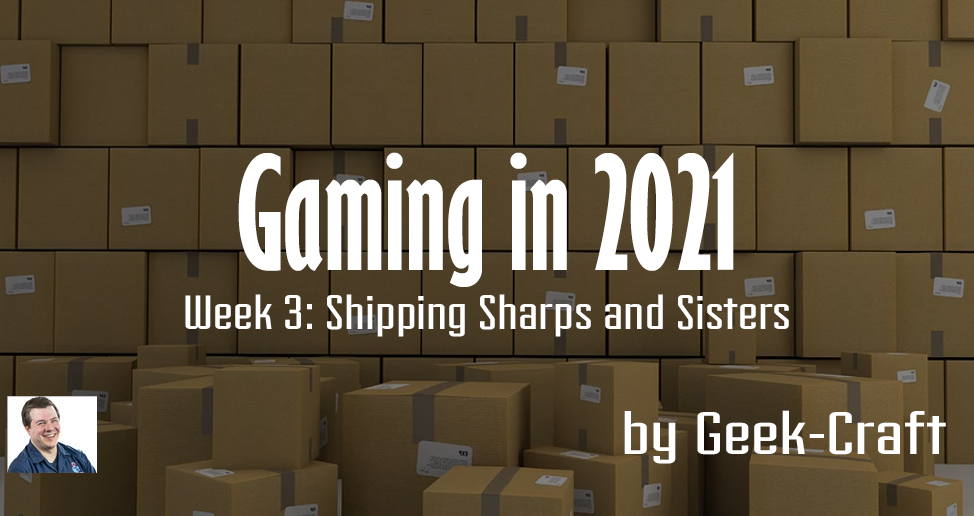 This article references the time between January 11th and January 17th, 2021.
Plays
I played Curious Cargo against my buddy Eric. It was my first not-solo game and his first experience. We both really enjoyed the game and he managed to beat me. It's a game I want to play more and get more experience with. Kevin showed up to my Thursday demo of Silver Dagger, and I do enjoy this version of the game quite a bit. I like the shooting the moon equivalent, but I think the other decks are a little easier to pick up. Finally, I learned Three Sisters, an upcoming roll and write from the guys behind Fleet. I'm a big fan of theirs and while I did enjoy this game, there are a lot of options and it was a bit much for a first play. I like the way the game works, but I think I need to get it to the table a few more times to really get a feel for how to do better at it.
Acquisitions
I haven't added anything to the board game collection this week. I did pick up some video games though. On Steam, I got a preview for Dandy Ace, a roguelike game with similarities to Hades, another game I enjoy. It's been fun seeing the card combos and how the game works, though I'm not doing as well as I'd like in the game so far.
On Nintendo Switch, I picked up Mr. Driller DrillLand, Namco Museum, Bloodstained: Curse of the Moon 2, Dandara: Trials of Fear Edition, BoxBoy + Boxgirl, Gunvolt Chronicles: Luminous Avenger iX, Katana Zero, and Dex. I got a Nintendo gift card for Christmas and with the new year's sale going on, I saw a lot of good looking games.
Other
Sam and I have been playing more Sackboy and really enjoying it. Though the latest world bumped up the difficulty a lot. I do occasionally stream when we play over on Twitch. As Dandy Ace has Twitch functionality, I've been considering running some of that as well. Is that something you'd participate in? Please let me know.