So You Got a Steam Deck? Tips, Tricks and FAQs
I've had my Steam Deck since August of 2022 and I think it's a wonderful piece of technology. However, they aren't cheap and people have had a lot of questions. I know a bunch of things are already online along these lines, but I thought that the people who I know and who know me would appreciate a run through of my experiences.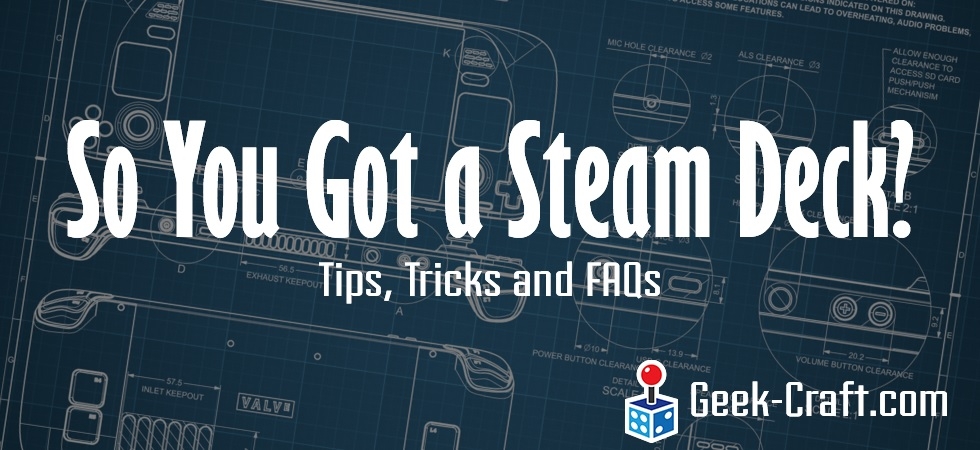 I have (as of this exact moment in time) 1,384 games in my Steam account. This is from bundles and a lot of deals over quite a few years. Not everything has been a hit, obviously, but there have been a lot of solid games on Steam. Some tips I have for folks new to the Steam Deck (or PC gaming in general, I suppose) are below.
Figure out what kinds of games you like and what you don't care for. The main reason for this is there are just so many games out there, so if you can ignore things you don't care for, you'll find more games you'll enjoy. In Steam, you can go to the Store preferences and exclude games based on tags. For example, I am not into MMORPGs, so I have that on my exclude list. This means Steam won't recommend them and will hide them in sale pages.
Fanatical can be your friend
Game deal sites are very popular, but I do most of my shopping on Fanatical. They usually have the best prices for games and they frequently have special sales or game bundles where you can get multiple games for really good prices.
If you have a LOT of games, it can be hard to remember what all you have. GOG Galaxy (while not great for on the Steam Deck) works well to help with this effort. You can log in and it will collect all of the games you own on a variety of platforms: GOG, Epic, Steam, Origin, Ubisoft, Xbox, and more. It's nice when you go to buy a game and realize "Oh, I already have that, let me install it!"
Having games you want to play is something you'll deal with, but if you have any games already on your Steam account, it's important to your wallet to consider playing through those first. ITAD allows you to create or import a wishlist from Steam and get customized alerts. They also track bundles and other deals if you're itching to get a game. I have my alerts set up to notify me if a game is either 50% off or $5 or less and will activate on Steam. This means I can know when things hit a bigger discount without having to check everything myself regularly.
ITAD also makes a plugin that'll give you easy links to games on Steam or ITAD, as well as a built in price tracker so you can see how low a game's price has gone in the past. AugmentedSteam is very handy.
Humble Bundle sells (shockingly) bundles of games. They also have Humble Choice where you get 8 or so games of their choosing a month. You can skip a month if none of the games interest you, or you can activate the keys you want and give the others to friends. If you sign up for Humble Bundle and use my link, I get a small kickback from them.
GameStop
I know that GameStop doesn't sell much in the way of PC games, but they do sell Steam wallet codes. They offer a program where for $20 a year, you get $5 to spend on anything in the store each month, which includes $20 Steam cards. So I've been paying $15 for $20 worth of Steam credit each month and letting it sit until I find a game I want. It's not perfect, but it can be handy if you don't mind the extra steps.
FAQs
What games will it play?
While it won't play literally any game, it's had no issues with any game I've tried to play on it. If you are concerned, Steam lists if a game is Deck Verified on each title's page. I've also played a number of games that weren't verified and they ran just fine. You can also check out ProtonDB and sign in to have it check the community input for how well games work.
How heavy is it?
A quick search tells me 1.47 pounds (669 grams), where a Nintendo Switch with joycons comes in at 0.88 pounds (400 grams). However, it doesn't feel that heavy to me. The weight is distributed well and it's comfortable to hold and play. That being said, I've been known to throw a pillow or blanket across my lap to help support it, which is nice but certainly not required.
How do I hook it up to my TV?
You can hook it up with the official Steam Deck Dock (which you will mispronounce) or any number of laptop docks or third party docks. I have used a few and as long as it will send enough power through to the Steam Deck, there are a lot of options out there. The official dock is very nice and comes with an extra power cord, which is handy to have. I have not used but have heard good things about the JSAUX dock which is much cheaper than the official dock. I'm a fan of this laptop dock as well, as it does what I need it to and has a small form factor.
What else should I buy?
I picked up this charging brick and it's been great for my Steam Deck and my Nintendo Switch. Small form factor and foldable prongs make it really handy to have. High quality USB C cables are important, mostly for how much power they can deliver. As long as it's 60W or higher, you should be fine. Consider a right angle cable as well for charging while playing. Getting a Micro SD is also handy for adding storage to your device and I've seen 1 TB cards for $100 on sale.
What controllers will work?
Yes. Pretty much anything you'd like to use should work well. Anything that has bluetooth should likely be supported, including Xbox, PlayStation, Nintendo, and PC controllers. If you need USB for a dongle or cord, you'll want one of the docks above or a USB C to USB adapter, but that will block your ability to charge while playing. Think of it as a PC.
What issues does the Steam Deck have?
I have games on other digital storefronts – Epic, GOG, Amazon, Itchio, etc. There are ways of making them work on the Steam Deck, but they vary in effectiveness and in how much it takes to get them to work. I have enough games on Steam to not be too bothered, but it is a little frustrating sometimes. I also know that any game that requires anything anti-cheat may have issues since it's on Linux and not Windows, but I don't play games that require that.