A Year Of Gaming – Week 25: Great Scott! Read This, Would You Kindly?
Lots of time travel this week. Back to 1885 in a DeLorean, 2007 on my Nintendo Switch, and 1960 in a lighthouse.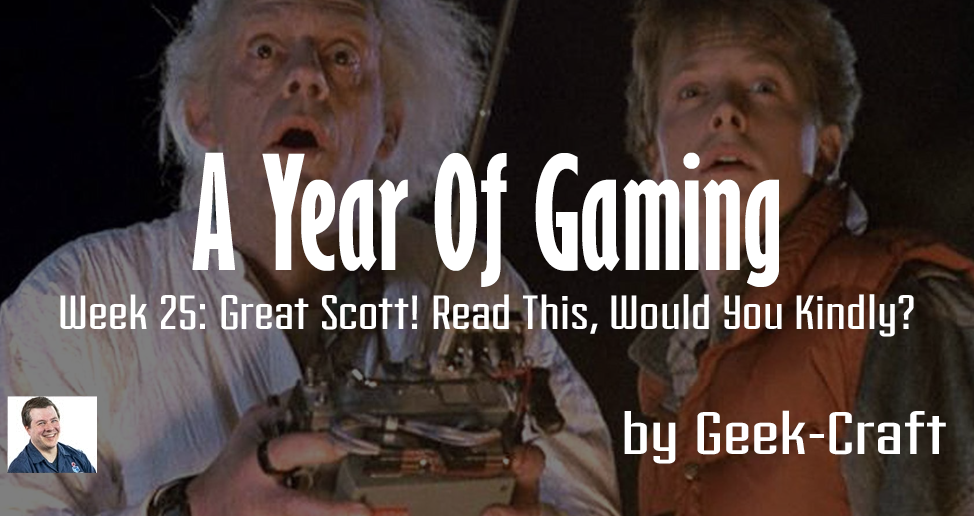 This article references the time between June 15th and June 21st, 2020.
Plays
I love Back to the Future – it's one of my favorite movie series. I love the humor in the movies. My good friends Chris Leder and Ken Franklin worked with Kevin Rodgers to develop Back to the Future: Dice Through Time. It's a cooperative game where players are time traveling to fix the paradoxes and events in the Back to the Future universe. It's a fun game that would be a great introduction for any Back to the Future fan to cooperative games. Of course, any game where you get to punch Biff in the face again and again is already off to a good start.
I also played Shelfie Stacker on Tabletopia and really enjoyed the solo game. It's got a lot of gamer humor and I think it will resonate with gamers who want a light dice drafting game that pokes a little fun at the hobby. That being said, there are a lot of references that may go over some heads, so be ready to explain what is going on if you try it.
Acquisitions
I got Back to the Future: Dice Through Time sent to me by Chris Leder. Chris is a long time friend, even if he won't admit it, and I think he's a great game designer. If you're curious about this game, it's a Target exclusive
I also got a big box from Pandasaurus Games. Inside were three games. Godspeed, The Mind Extreme, and Sonora. I think Godspeed looks gorgeous and I love the slightly odd theme of the space race being a lie, not in that we didn't go, but that we've done so much more. The Mind Extreme doesn't really catch me, but after all of the talk when it first came out, I think it's worth giving it a shot. Of the three, I'm most excited to try Sonora. A flick and write game is a very interesting concept, even if I'm terrible at flicking games. I am hoping to get at least one of these to the table this week.
Other
I picked up the Bioshock collection for my Nintendo Switch and despite the original game coming out in 2007, the story and everything still holds up. I'm loving exploring Rapture on my Switch and am excited to go back through Bioshock 2 and Bioshock Infinite as well. There have been a few bugs and one crash that cost me about an hour of play, which is frustrating, but I'm still enjoying the experience.