A Year Of Gaming – Week 26: Batman vs. Godzilla
Who would win in a fight between Batman and Godzilla? Easy: The fans!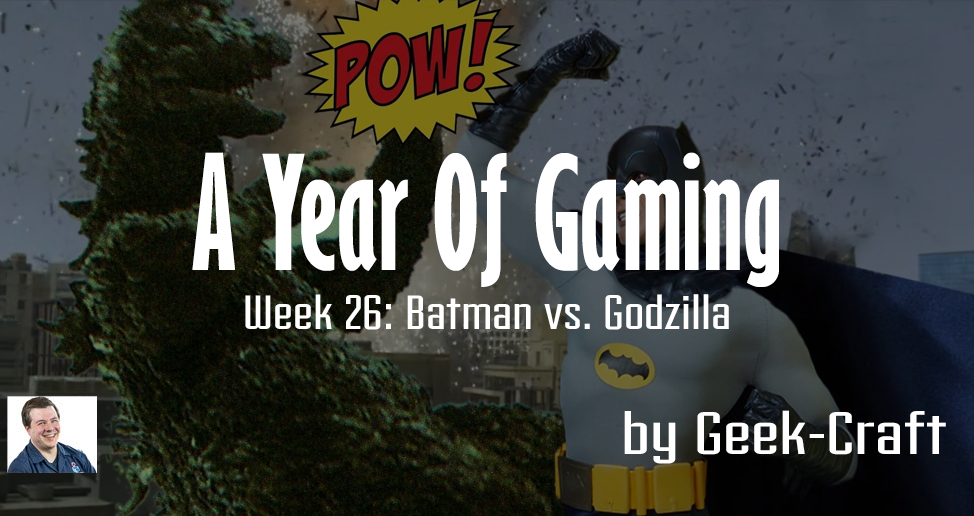 This article references the time between June 22nd and June 28th, 2020.
Plays
I got two games to the table this week. First was the DC 100 box set for the Funkoverse Strategy Game. I like this kind of game a lot, but I also know that it's far from my wife's favorite. However, she agreed to help me try it out, and we did the intro scenario. If the game stopped there, it would be kind of flat, but I know there are other ways to play and lots of other characters to try. As there is no hidden information, I'm hoping to find someone to play with online and try out the other modes.
The other game that made it to the table was The Mind Extreme. I still don't know if this is actually a game in my mind as much as it's an activity, but I actually enjoyed it more than I thought I would. It's a game of timing and patience and questioning yourself. I think I'll try it with more than just 2 players once we can game in person again.
Aside from these physical games, I've been playing a ton of Roll for the Galaxy on my phone and computer. I've also been enjoying Monster Train and Dicey Dungeons, which each have a bit of a board game feel to them.
Acquisitions
Three games entered the collection this week, all from Funko Games. I am not one for collecting Funko figures, but my wife has a few. That being said, I think the games have some interesting features and with the huge character and license catalog they have access to, they can do a lot of different games. They sent me the DC 100 box set, the Back to the Future 100 set, and Godzilla: Tokyo Clash. I'm a big fan of asymmetric combat games and these are all in this category one way or another.  I must say, I'm not a fan of the stickers used to seal the games – it leaves a bit of residue on the box lid and bottom and just bothers me. I am looking forward to trying these games and seeing how the different characters and licenses work within the games.
Other
Not too much else to cover – trying to play more, not necessarily succeeding.