A Year Of Gaming – Week 29: Bricks to the Future
The Night King comes to mind as someone who would want to use Doc Brown's time travelling DeLorean. Of course, I think anyone who watched Season 8 of Game of Thrones would too… Let's talk about some games!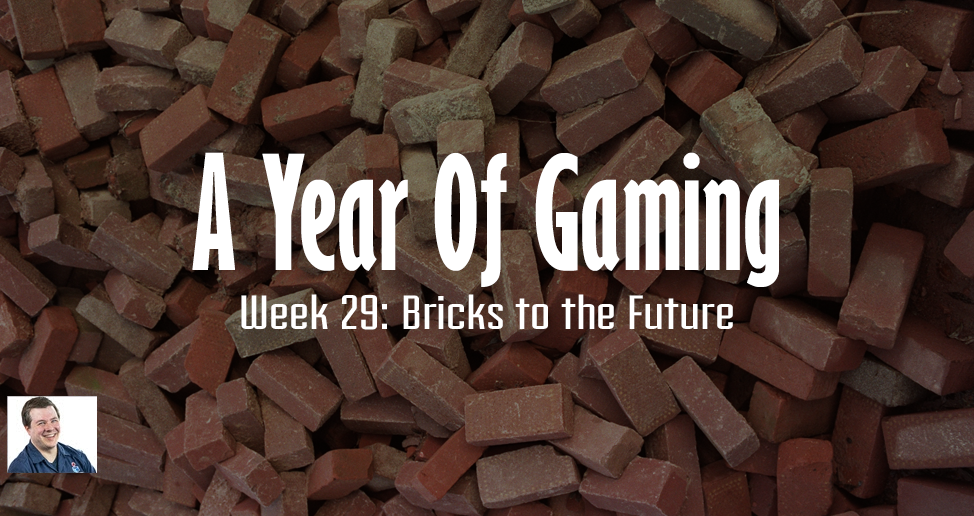 This article references the time between July 13th and July 19th, 2020.
Plays
Got some actual games to the table! I taught my wife Unlocking Insanity. Apparently I embrace the spirit a bit better than she does, as I won 60 to 6. I got and learned Back to the Future: Back in Time. It's another coop game in the world of Hill Valley, and comparisons to Back to the Future: Dice Through Time are abundant.. Both games came out around the same time and share the license, though they don't play the same. I'll be doing a comparison once I've played each game a few more times.
The final game that hit table didn't even technically hit table. We played two games of Roll to the Top while sitting on the couch and watching Star Trek: Voyager. It's a great roll and write game that works well as a simple but engaging game. Detailed enough to give the player options but casual enough to play in the background.
I've also started playing a few games on Yucata.de. It's one of a variety of online board game sites, and they have two games that I enjoy playing that work well digitally: Can't Stop and War Chest. My buddy Eric Buscemi won against me in both games, but it was still nice to play with him.
Acquisitions
Aside from Back to the Future: Back in Time, a few other titles arrived this week. Also from Funko Games came the Funkoverse DC 102 and Game of Thrones 100 sets. I am excited to see a full game with 6 characters from the same universe, so Wonder Woman and The Cheetah will be welcome additions to Batman and Joker.
Ctrl came in from Pandasaurus games. I like the idea of this three dimensional territory spreading game, though the complete lack of insert and stickers on the posts are a little offputting.
Dust in the Wings and World Shapers came from Board&Dice, and I'm excited for both. I love the box art for Dust in the Wings and the set collection and drafting of World Shapers caught my attention as well.
Other
It's been determined that I'll be working from home until next year, which is not surprising given how we're handing the pandemic as a nation. This also likely means no demos until then, so if you're interested in chatting about games or want to learn one via a video conference, please reach out.
I've also been doing more with the 3D printer I picked up and I'm looking forward to designing inserts for games. If you have a game you'd like to see an insert for, please contact me.