A Year Of Gaming – Week 31: Towers, Trains, Telescopes, and Territories
This week I built towers and trains, used a telescope, and mapped out territories for animals, all without leaving my house!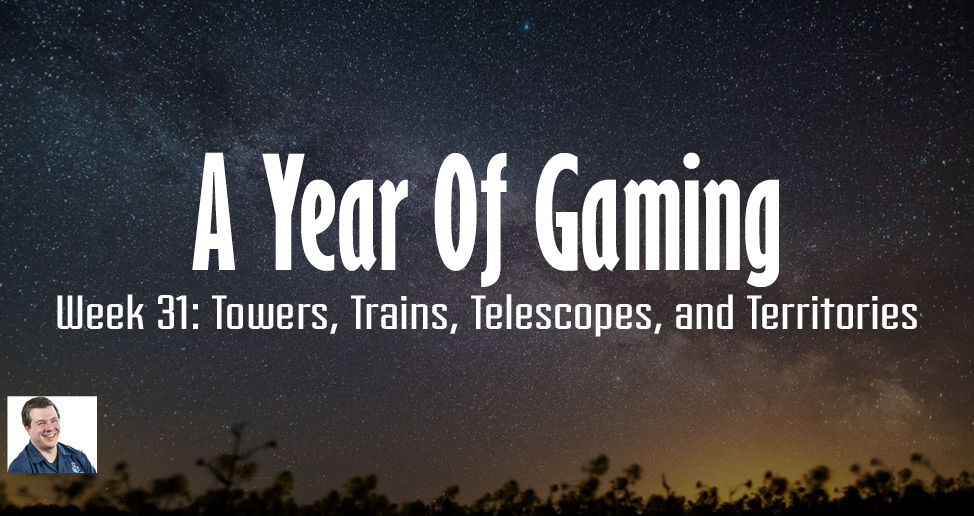 This article references the time between June 26th and August 2nd, 2020.
Plays
Due to Gen Con Online and the Punchboard Media Mixer we set up with publishers, I got a number of games played recently.
More Roll to the Top! hit the table, and this time it was actually at a table! We did the Equator map which changed the way the game is played. Instead of going to the top, you work your way up and down from the equator, which shifts the game play a good bit. It was still very fun to try the different rules on a new map.
LOTS: A Competitive Tower Building Game came in the mail and my wife and I busted it out almost as soon as it arrived. It has a dexterity element, but that part is much more based in "stacking pieces" and not "being careful". It has a little bit of a Tetris feel, but it's not the same. I like it with two and look forward to playing it again.
Online, I managed to play a few games. First, I got in three plays of Maglev Metro, an upcoming train game from Bezier Games. It's certainly in a similar vein as Age of Steam, but it's not quite as punishing and has some very different design decisions. I'll be writing a full review since I got three full games of it in over the last week.
Stellar is a two player game of looking at the stars and making notes about them. This mechanically is represented by playing cards to a specially shaped area for your stargazing and playing cards below it to act as your notes. It's a light game (cause stars and… anyway…) but it plays pretty quickly. I'd like to try it again.
The last game I played last week is Cascadia, which is a tile laying and animal matching game coming from Flatout Games. It's a bit like their other title, Calico, but it's far from a retheme. The animals score based on where they are located and what is around them, which the players design as they add hexagon tiles to their play areas. There are no boards, so players can build pretty much wherever they want in their own space. I look forward to playing it more.
Acquisitions
I got a few games in the mail this week. First were a trio of games from Germany. First is Franky: Rock'n Vegas, which seems to be a dice rolling push your luck game with some mathy elements. Half-Pint Heroes is a bar fighting game where a player can win outright before the end of the game. And Steamopolis is a worker placement game with some engine building and interaction. I'm excited to try them all.
The other arrivals were LOTS, which was already described above, and Fumbling Ferrets, both by the same designer. I'm a fan of word games, so I'm excited to try Fumbling Ferrets out once I have enough players to give it a try.
Other
I've been working on designing my own 3D printed insert for Root. I like a lot of the options on the market, but 3D modelling is something I'd like to learn more and Root is a game that would do well to have the additional organization. You can see my first box below.