A Year Of Gaming – Week 6: Digging, Dreaming, and Drifting
Old favorites get new life with new additions and new editions. On top of that, new games get played and more games get taught. It's a week full of Digging, Dreaming, and Drifting!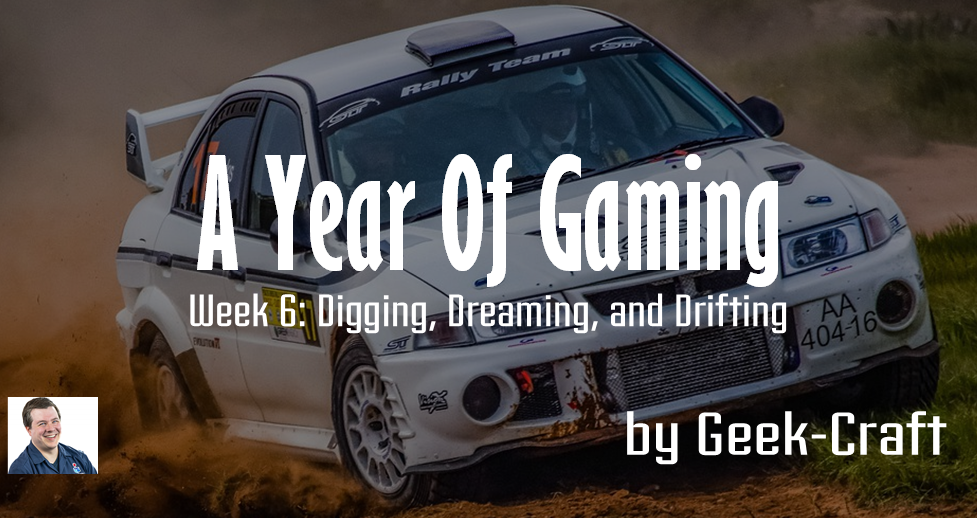 This article references the time between February 3rd and February 10th, 2020.
Plays
Starting with the obvious, The Crew got 11 more plays last week. Found out I'd been playing the two player variant incorrectly and not assigning the AI player tasks. Consider him just another player. I also played Paris: La Cité de la Lumière twice more since first trying it at BGG.Con 2019. Qwantum was also played again, this time with much better scores.
For new to me games this week, I played Djinns of the High Desert. It feels a little simple, but it's not a bad game. However, despite the word "Djinns" being incorrect, it was a fun game to play. In this game, you play various djinn to the table in front of you. The first player to get eight triggers the end game where each player totals their largest faction and subtracts the other factions. It's nothing complicated, but it wasn't bad.
Dreams of Tomorrow is a weird premise for a tableau building game, but it was quite fun. I did well, but not well enough to win, and I would love to go back and give this one another shot. In this game, players are dream architects trying to weave together dreams. This is represented by a set collection kind of mechanic. I like how the game plays and hope to play it again soon.
T.I.M.E. Stories: Brotherhood of the Coast hit table after almost 2 years of not playing the series. It was rough going, we may not have gotten the ending we wanted, but we enjoyed playing and are hoping to finish the White series with Madame this Thursday.
The last game played this week was Three-Dragon Ante: Legendary Edition. I played this back in college and enjoyed it then, and the new edition is lovely. I still want the cards to look like they are presented in the instructions, with rounded corners and a non-rectangle design, but the game play is still solid. It's not poker, but it is similar and works in similar ways. I enjoy it and would love to try it with more players.
Acquisitions
Lots of new games this week. First, I got a lot of games to review from Level 99. I adore the very different and unique games that Brad and his company put out. I got the second edition of Argent: The Consortium. I love worker placement games and this one has each worker as a student who have various magical powers. I've played the first edition and I'm excited to check this updated version out. I also got the Hope Box and the Shadow Box, as well as the Enchantress and Specter Knight, for the new season of Exceed, which brings ten characters from Shovel Knight to the series. Exceed is a card based fighting game – think Street Fighter or Mortal Kombat – where each player has a character and a specialized deck. I'm a big fan of the series and enjoy playing it quite a bit. I also got The Beheaded and A Robot Named Fight individual characters as well. I also got Pixel Tactics: Legends, an expansion for another two player card game from Level 99. However, this one is much more tactics based and one of my favorite games of all time.
The Deadlies showed up, which I'm hoping to play tonight. It's a take that kind of card game, looks fairly simple and silly, but I enjoy a lot of games from Smirk and Dagger, and I think that I'll enjoy this one too.
The other box that arrived this week was my Rallyman GT pledge from Kickstarter. I'm a little annoyed that online retailers have had this for sale when backers didn't have their copies yet, but I'm excited to get the final version to the table. I really enjoy the original and I am excited to see it more available to gamers.
Events
I ran an event for Paris and it went well. I love how easy this game is to teach and explain. The design is very well done and the gameplay is solid. I love many of the two player games in this size of box, and Devir did a great job with this one.
This Saturday I'll be teaching La Viña on February 15th at Critical Hit Games. I'm excited to give this one a shot after how well Paris went.
I'm always looking to run more events – Tournaments, learn to plays, and opportunities to introduce people to games they haven't played before. Have something you want to check out? Please reach out!