A Year Of Gaming – Week 9: Marching On
Barely breaking into March this week, but with games with themes like Time and War, marching on kind of makes sense.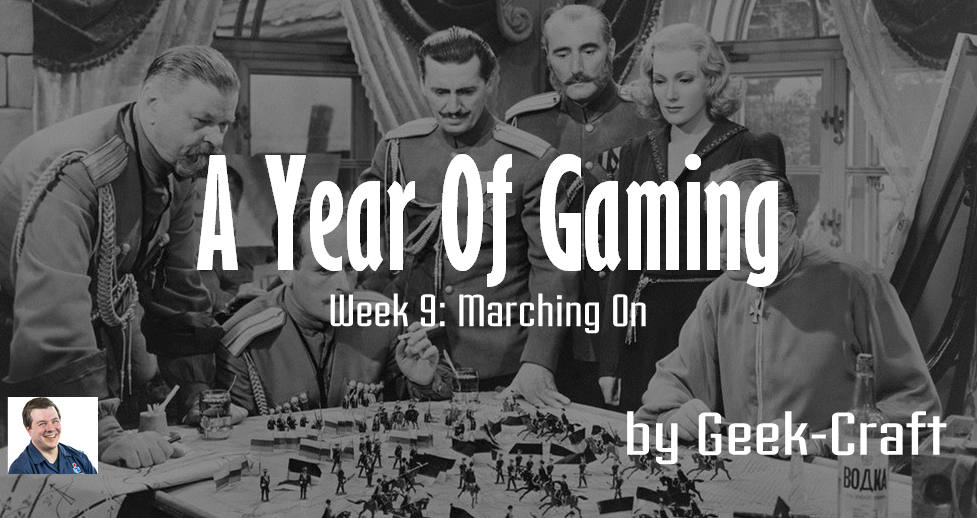 This article references the time between February 24th and March 1st, 2020.
Plays
Some not-new games hit the table this week. Sagrada was a hit with the gaming group, so it got out to the table again, this time with the Great Facades – Passion expansion. It changes the game up with new goals and even a few shiny dice but still feels like Sagrada. As it is part one of a trilogy of expansions, I'm excited to see what other additions they can make to this great game. War Chest also got back to the table, and I forgot how much I enjoy this tactical strategy game. It's awesome with two players who have similar minds for strategy and has some really well made components. I think this one is a must try for folks who want to try out a tactical game.
I also got a few new games to the table this week. Dungeon Mayhem: Monster Madness was played at Monday night gaming and it's more of the same. I'm not a big fan of games that have the player do something that doesn't seem to fit with the game, such as the beholder's card that makes everyone compliment them or take damage. Aside from that, the game play is well done and I am a fan of the game. It's a great light-weight card game that clicks with both D&D fans and folks who have never played. Inner Compass also got to the table, and it may have some of the best instructions I've seen – not from a game explanation standpoint, though that isn't bad, but from a theme standpoint. The first step of Setup is:
Take a deep breath and reflect for a moment on what is really important to you in life.
It's silly, but it feels like a natural fit for the game. This doesn't feel like a negative kind of silly to me as it's not a part of the game, just something noted once in the rulebook. I have a particular amount and kind of silly I agree with, it seems.
As my group recently finished the TIME Stories white cycle, it was time to start the blue cycle. There is room for improvement for the rules, but that's not the end of the world. The main concern I have is that the FLGS that I bought the copy from doesn't accept returns on opened product. I am missing the plastic connector for the wheel from the TIME Stories Revolution: Experience box. So now I can't return it to get a replacement and I can't contact Asmodee as they are no longer fulfilling replacement requests to individuals. Aside from that concern, my group really enjoyed the change in focus from exploring a location to seeing how the different characters interact within the game. The rules for The Hadal Project again weren't the best, but we think we played everything correctly.
I also had some spare time yesterday and learned to play Crystal Clans. It's a lighter battle card game that is no longer being developed. The game went quickly, likely because we were still learning and one player was more aggressive than the other, but I can see the potential. I think this game is fun and it's certainly one I want to play more.
Acquisitions
Only one thing added to the collection this week – Tiny Towns: Fortune. I think Tiny Towns is a great gateway game that feels like a roll and write but isn't. It's strategic without being too heavy and has a lot of game in the core box. I'm excited for the expansion because more of the same will just make the game better. Of course, the coins in the expansion are really well made and look adorable, which has some impact.
Events
Nothing out of the ordinary for events. Gaming on Mondays at Immortals Inc. has been going well. The regular open gaming and receptive players has led to many games hitting the table that may not have otherwise. Gaming has also been happening at Critical Hit Games, which has been nice for randomly hanging out and playing games.