Gaming in 2021 – Week 10: Boxes And Boxes And Boxes
A bunch of games arrived this week, a few games played, and some more video games. Tons of boxes!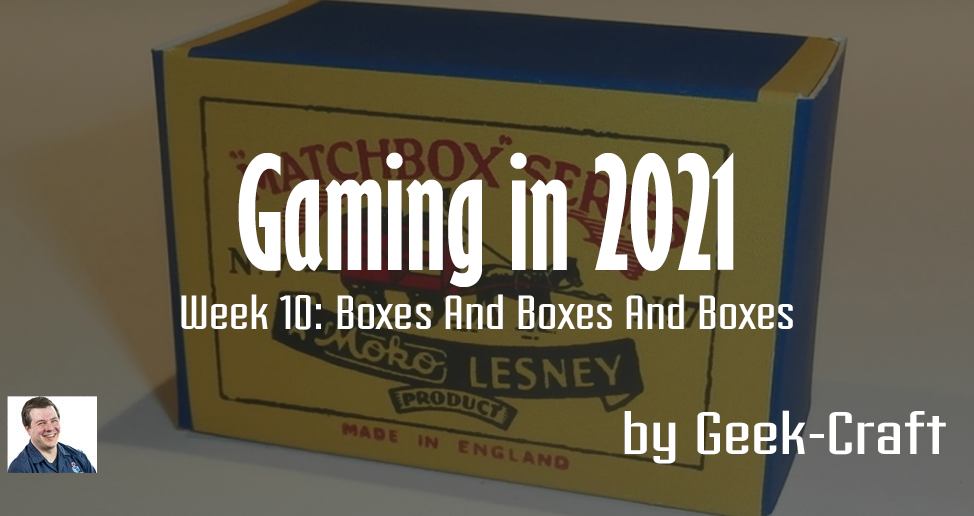 This article references the time between March 1st and March 7th, 2021.
Plays
It was a slower week for playing games, but I still got a few things played.
Sam wanted to play a roll-and-write and I wanted to try something we hadn't played before, so I opened up Balloon Pop. It's a very simple push your luck type of roll-and-write game and when we were done… I don't know, it just felt really flat and unfun. It seemed almost never worth pushing your luck and taking the first roll was the best option. We also realized after some further discussion that it's possible to lock the game so that one or more players has nothing else to do the rest of the game.
We did another game of Qwixx and I participated in another pair of streamed game of Second Chance. I did quite well in each of them and I think it's a solid game that works well for streaming with some very minor rules changes.
Acquisitions
It's been a busy week for games arriving.
First, the Matchbox Collection from Thundergryph games arrived. It's a small set of games that have nice components. I backed it on Kickstarter and was pleasantly surprised at how well the games pack up into rather small boxes. I'm also very happy that all of the games come with solo rules. The five games in the box are 15 Days, Eiyo, Space Lunch, Golems, and Rebis.
I also got a box of games from Eric Buscemi – a good friend and fellow reviewer as The Cardboard Hoard. We chat frequently and have exchanged games for each other to review. He sent me Escape from the Starline Express, Patchwork Doodle, Shahrazad, Son of Doctor Esker's Notebook, and Three Sisters. I've been enjoying escape room style games and he passed along two of those. I'm also excited to try Patchwork Doodle, especially with all of the roll-and-write games we've been playing. I am excited for Three Sisters as well, as it's a meatier game.
I also saw someone on Facebook Marketplace selling the full Century series. It's one I've wanted to try for a while, and I know it's a lighter game, but as those are more likely to hit the table lately, I got the set.
Other
I've been enjoying my Xbox and playing the games on Game Pass. Sam and I tried a bit of Phogs, which is very cute and silly. I've also been enjoying Ori and the Blind Forest. It's a metroidvania style game with beautiful art and some very challenging parts. When Sam is using the TV, I've been playing Ikenfell on my laptop – also through Game Pass. It's an indie RPG with some real-time elements in the combat system. As someone who grew up playing Pokemon, I've always been one to hit the button to "make sure the hit connects", even if that doesn't do anything. I also played through and got all of the trophies in Donut County. It reminded me a lot of the Untitled Goose Game and Katamari Damacy. I would love to see a larger level in the vein of Katamari.