A Year Of Gaming – Week 3: Trains & Foxes on Mars
More heavy acquisitions, some new titles get played, and more games of The Crew this week.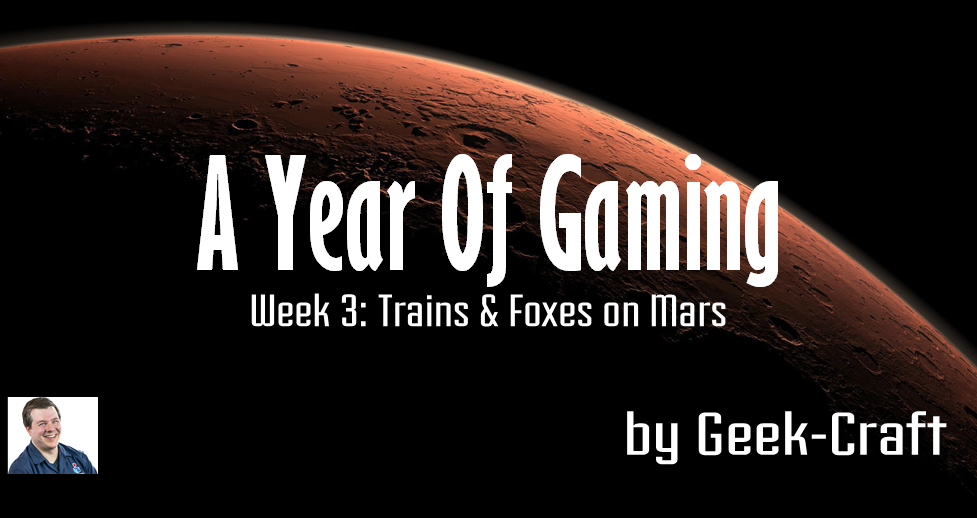 This article references the time between January 13th and January 19th, 2020.
Plays
I took a few new games with me to game night last week, but first we played Roll to the Top! I'm really glad I picked up this simple roll and write game at BGG.Con. It's got enough options to be interesting, but is quick to teach and play as well. I'd love to play more of the other maps that I have as well.
I got to play The Fox in the Forest Duet, which I really enjoyed. I love the original The Fox in the Forest, which is a two player only trick taking game. Duet turns this already unique idea on its head by making it cooperative. Each trick the winner moves the tracker along a path. Both players are trying to get the tracker to each location on the path with a diamond to claim it. It's a nice take on the game and I think it'll do well for Foxtrot and Renegade Games.
The next game was Pick-omino Deluxe. It's a light game, full of chaos and silliness, but I really liked it. I'm hoping to try it again with some families or younger gamers.
The last game of Monday night was introducing more folks to The Crew. You're shocked, I know. Three weeks into the year and I've played it with someone new every week. It's just such a well done game that I really enjoy.
Acquisitions
I stopped by The Gaming Goat in Parma and saw my friend Eric, who is also the owner. He and I were both very excited when Taverns of Tiefenthal was announced, and since he had a copy in stock, I picked it up. I also saw that he had Kickstarter packages of On Mars. I'm a big fan of Vital Lacerda and his designs, so this ended up coming home with me as well.
On Friday, I was expecting two packages. One turned out to be a copy of Tiny Epic Tactics, and since I have the deluxe edition, I'll be doing a giveaway with the regular copy. The other was 22 pounds of Empyreal: Spells & Steam, a magical pickup and deliver game from Level 99. I really enjoyed playing it when it was a concept, and the box is HUGE. I'm excited to get it to the table, but I also hope it doesn't cause the table to collapse.
Events
I'll be running Cities: Skylines one more time on January 21st. In February, I'll be showing off Tiny Epic Tactics on February 1st, Paris: La Cité de la Lumiére on February 8th, and La Viña on February 15th. All of these events will be at Critical Hit Games. If you have questions about any of these games or want to see other games or events, please let me know. You can see all of my events on the Geek-Craft Facebook page.