A Year Of Gaming – Week 4: Taverns, Trays, and Thoughts
This is the first week of 2020 with no game acquisitions! Of course, there was still gaming and events to run and more events to plan. Also, looking for feedback from folks just like you!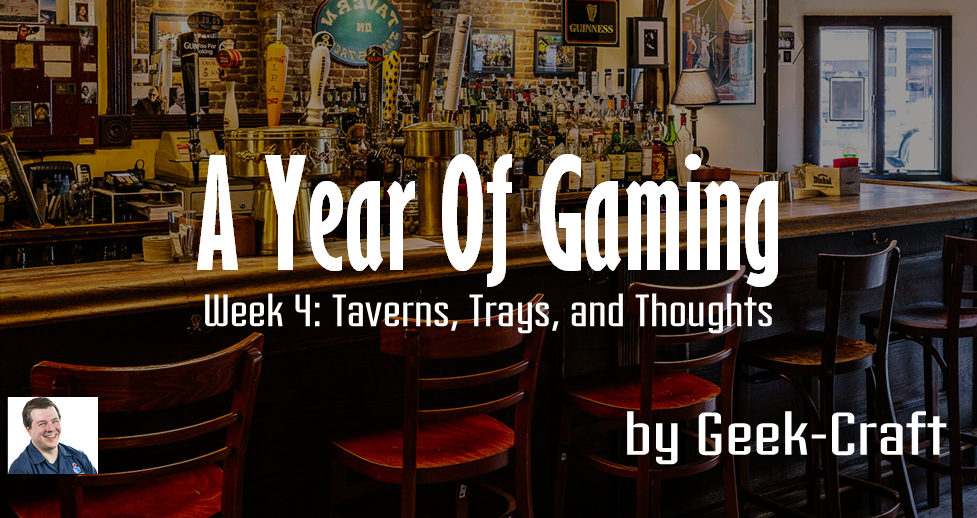 This article references the time between January 20th and January 26th, 2020.
Plays
A huge shock – I didn't actually play The Crew this week! It's a tragedy, but I think I'll survive. However, I did play a few other solid games. For games that I've mentioned before, three more plays of Medium with the expansion, which was just more of the same fun game. I'm working on a review of Medium now. I also played Pick-omino Deluxe again, doing far worse than my first game. Two more plays of Roll to the Top! also occurred, which I am still really enjoying.
Of the other three games I played this week, two were new to me and one was one I have played before, but not this year. Why First? is a game from 2015 – ages ago – but it's such a simple concept and well executed game that I wanted to introduce some folks at open gaming to the fun. It's a simple game – everyone has a hand of cards that range from -4 to +5. Each turn, everyone at the table plays a card of their choosing in front of any player, including themselves. Each player then moves forward or backwards based on the sum of their cards. You repeat this four times, then the last card in your hand is applied to yourself. At this point, the player or players in second place on the track win. Simple idea, simple execution, but the game is a ton of fun. It's all about overthinking and trying to not do the wrong thing despite the "wrong thing" not necessarily being obvious.
The new to me games were both quite fun, though very different. Blank is a game that feels a bit like Fluxx and a bit like Uno. It's a simple card game where the goal is to run out of cards by matching color or shape, but there are rules in play that may change how the game works. The winner of the game gets to add something to a card – it could be a new rule, it could be an ability when that card is played, or anything else the player can come up with. It's silly and chaotic, but I enjoyed both plays.
The other game that was new to me was The Taverns of Tiefenthal. This deck building and dice drafting game has some really clever parts that I'm still trying to figure out. It has well designed components and while the rulebook isn't the best to teach directly from, it's a solid game that flows smoothly once everything clicks. I picked this game up because the designer also made The Quacks of Quedlinburg,  but I've also realized that he made some other games that I enjoy, like Ganz Schön Clever. I like how there are modules to increase the options in the game, but I may have to 3D print some barrels or such for the dice drafting so they don't fall off of the base.
Acquisitions
I didn't get any new board games this week! It does happen occasionally. However, I did get some gaming accessories in the mail. C4LABS makes a variety of board game accessories with most of them being dice trays or dice towers. Normally these are more aligned with RPGs than board games, but I do appreciate dice trays for some games. I talked about one option in my Board Game Accessories post, but they offer a different kind of collapsible dice tray. It has a fake leather bottom, a nice option if you don't want to use real leather, and the laser cut has a great campfire smell. The tray rolls up small, down to 6 x 2 x 1 inch or so, but rolls out and sets up quickly to a 7 x 6 inch tray. This is large enough for a brick of 12mm d6s and a regular size full polyhedral set of dice with some room to spare, so it should work great for most board games. It can be a little flimsy if you lift it from only one side, but I think that's an acceptable downside for it being so compact when folded down. There's also a little discoloration from the laser cutting of the fake leather, but as this is on the bottom, I don't think it's anything of real note.
They also offer custom options. I will say that I asked for a blue with gray, but Rachel of C4LABS took it a step further and made a fully custom Geek-Craft travel pocket dice tray. I'm impressed by how awesome it looks and blown away by their generosity and kindness. They do offer custom work for everyone, so you can get the dice tray or tower of your dreams made. C4LABS will be at Emerald City Comic Con in Seattle, but they're working on attending more shows and showing off their work. They also do table numbers, coasters, catering boards, and more traditional work. Check them out if you're in the market for something personalized.
Events
I helped a couple learn Arkham Horror: The Card Game yesterday and had a blast doing it. If you're in the northeast Ohio area and want to learn a game, please reach out, as I'd love to teach it to you.
As for upcoming events, there is open gaming at Immortals Inc. every Monday from 5-9. For specific games, come check out Tiny Epic Tactics on February 1st, Paris: La Cité de la Lumiére on February 8th, and La Viña on February 15th. All of these events will be at Critical Hit Games. As always, you can see all of my events on the Geek-Craft Facebook page.
Feedback & Input
I would love to get some input from the folks who read my posts. Mainly, what do you want to see more of? What kinds of posts do you enjoy reading the most? What can I do at demos to help get you there? Let me know on Facebook, Twitter, Instagram, or good old email.