On a Pedestal: A Review of Rathcore Miniature Holders
I have recently reviewed two somewhat obscure miniature holders, Mini Grips and The Hobby Holder, but this time I'm reviewing what has quickly become one of the most recognizable and preferred miniature holders on the market: The Rathcore.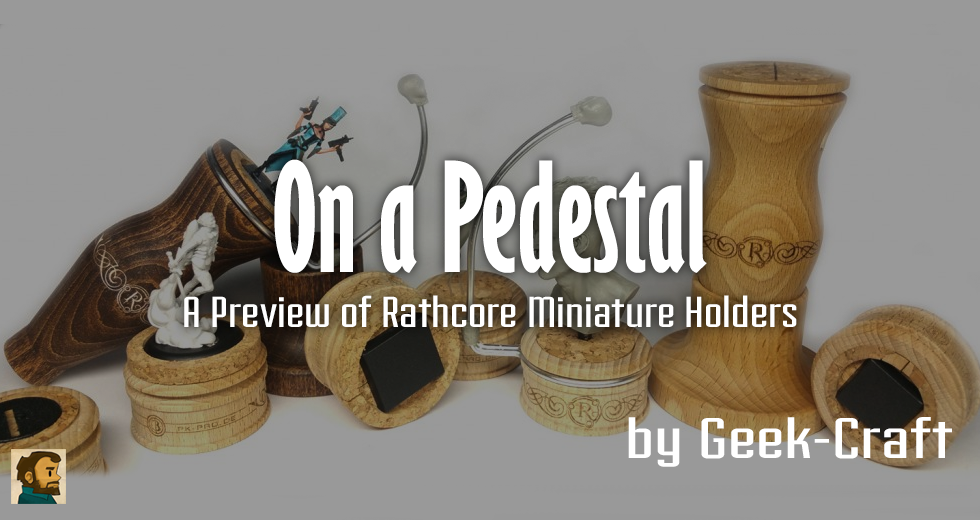 Go to any Facebook group, painting forums, or fan group and you'll find picture after picture of people's works in progress or finished minis sitting atop a Rathcore miniature holder. Following an immensely popular Kickstarter back in 2016, the Rathcore continued to gain momentum in the hobby industry and with good reason.
The Rathcore miniature holder is quality, made of wood with laser etchings on the side and ringed by a metal support bar on the side for your finger/thumb/hand (more on that below). The support bar can be removed via a sliding plastic piece and on top of the support bar is a rubbery plastic skull for good measure. Miniatures are held in place by variously-sized cork inserts that hold the miniatures by being squeezed into the wooden base. It only takes seconds to get your miniature firmly in place.
There are two models. The Rathcore Holder V3 and the Rathcore Grip V3. The holder allows you to pop the cork right out with your thumb or finger. It's super easy to get your miniature in place and free. The grip, because of the handle, requires you to use the end of your paintbrush or whatever you'd like to pop out the cork. It works like a charm. The grip also comes with a base that holds the device when you're taking a soda break.
I was able to test both of them and while I prefer the grip because it's more comfortable to hold for longer, the holder isn't uncomfortable and really it comes down to preference. When I'm painting miniatures now, I use a total of three Rathcore products: two of the holders and one grip, each with a mini getting basecoats or layers as I go along.
The cork that holds your miniatures in place comes in various flavors as well. It can hold an entire base by having a depressed middle area, or it can simply hold a metal tab or pin attached to your mini.
Support Bar
Attached to the holder or grip is a metal bar known as a Support Bar. It comes in various heights depending on how large your miniatures are. When utilized, the painter can rest a hand on the bar to steady their strokes or even hold the bar to get the necessary angle on your mini. A note on the support bar: I can't stress enough how much having something like this changes the ease of painting a miniature and the level of detail you can get while doing so. A support bar structure is pretty central to my workflow now regardless of how detailed I'm painting.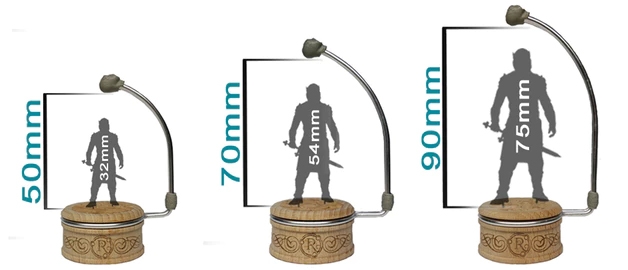 So, why is the Rathcore so popular and should it be the holder/grip you pick up? I think it comes down to the fact that it's so beautiful. The Rathcore elevates your painting by adding to the aesthetic of the experience and looks super good in photos/videos of your minis. The wood base and metal support bar go a long way in making the Rathcore royalty in the realm of miniature holders.
In Conclusion…
This is my favorite grip for painting miniatures. If you're looking for a good grip to ease and enhance your miniature painting, this is one to consider. You can buy them here. It's a bit more expensive than The Hobby Holder, but it's something I would recommend. Full disclosure, I use both Rathcores and Hobby Holders at the same time and interchangeably. While the Hobby Holder works well with magnets, the Rathcore doesn't really do that, not that it's necessary.
Disclaimer: I was not paid to write this review. I did contact the company to ask for product to review. I'm glad I did because I've found my favorite grip for painting minis. The customer service was excellent.