Origins 2017 Wrap Up
Origins is done and in the books and I've taken time to recover and come back to the regular world. It was a great time, like it always is, and I got to play a bunch of great stuff.
Origins 2017 had 17,001 attendees and 58,958 turnstile attendance, the largest it's ever been, but it didn't feel crowded. Part of that is likely due to the finished renovation of the Greater Columbus Convention Center, which made the hallways feel a little cramped last year. The renovations have done a lot, but I think the biggest improvement is the sheer number of outlets now in the main hallway. It's great to not have to search all over for a place to charge your phone. The addition of the benches is also really nice and helps con-goers take a load off. But enough about the building, let's talk about games!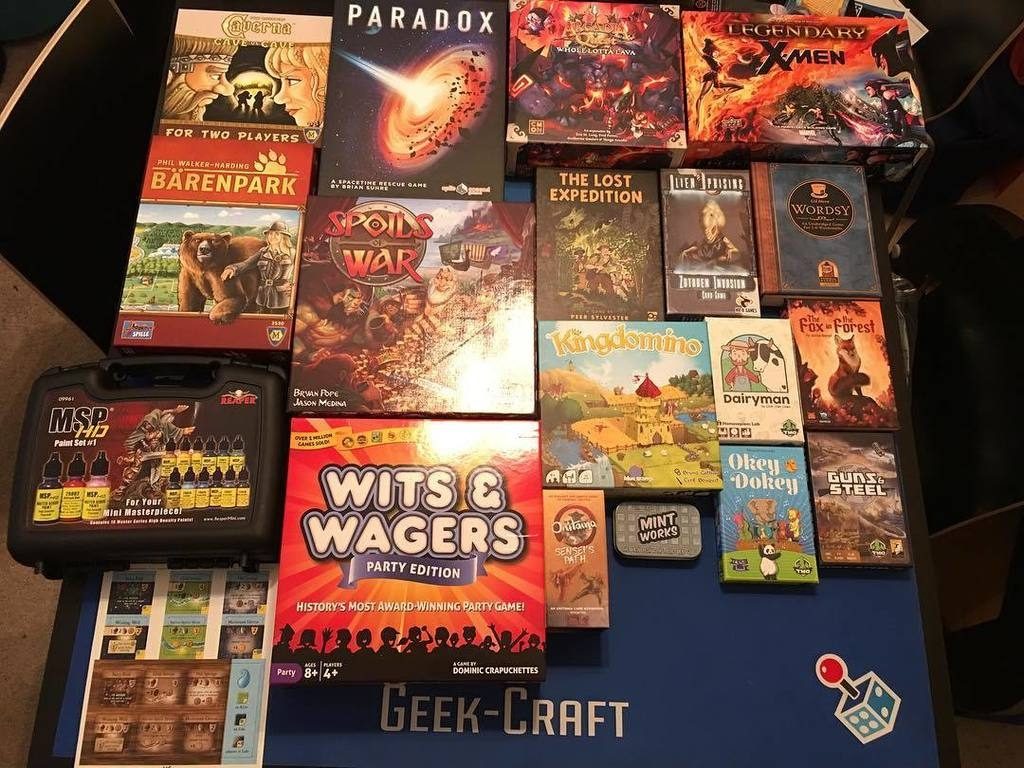 This is what I got from the various exhibitors at the convention. I'll hit on each item that I've played in a rough left to right order and talk about why I got it and what I think of it.
Caverna: Cave vs. Cave is the latest two player square box game from Uwe Rosenberg. I'll admit, I haven't played the regular version of Caverna, but I know that my wife and I love most of the games that come in this size of box. We got it to the table yesterday and we really liked it. It's pretty easy to learn, and the small randomizations with the tiles and the order they come up in makes the game different each time. I think the moving tiles to claim them works, but I have a feeling we'll be getting some viking or dwarf meeples to use in the game, as well as a rooster meeple for the first player marker. The resource tracking is quite clever and the rooms can lead to some fun combinations.
It's a very quiet cave. The neighbors don't come knocking often. #Boardgames #BGG #BoardGameGeek #Tabletop #TabletopGames pic.twitter.com/NYNVPsXybE

— Ken Grazier ???? (@demo_ken) June 25, 2017
Paradox is part match 4, part set collection, part timing. It's a lot of stuff at once, so I would suggest you keep your first game to 2 or 3 players. The introduction game is fun, but I think it could really be shortened to 6 or 8 rounds to help keep it shorter before going in for the full game. I'm excited to play it more and see the different ways that the game can work. Lots of mini in-spansions included, and I want to try them all.
At first, I was concerned that Barenpark was going to be another Patchwork or Cottage Garden, given the polyominoes. However, it's a very different game. It offers up the full set of pieces, but you can only take pieces that match what you cover on your boards. This leads to short-term planning and long-term goals, which combo very nicely. The only game so far was the base game only, which was a little light, but very fun. I'm excited to try the achievements and see how much they add to the game.
The Lost Expedition is a heck of a combination. It's a solo game. And it's a cooperative game for 2-5 players. Also, it's a competitive game for 2 players. The art is fun and the symbols works excellently to convey what each card represents. It's not an easy game. I lost my first game on the second night. The game requires some planning, some luck, and some cursing when things don't go quite right, but it's a fun game and I'm looking forward to making it through the jungle.
Made it to card 4 of 9 in solo mode. The Lost Expedition is hard. Love the way it works. #Boardgames #BGG #BoardGameGeek #Tabletop #Tableto… pic.twitter.com/Hz4L8TtCKq

— Ken Grazier ???? (@demo_ken) June 19, 2017
Wordsy is a word game for people who don't play word games, and it works really well. It's not about a limited selection, but rather points based on letters used. This is a simple difference, but it's a fun game that balances being fast and doing well. If you're curious about it, you can check out the @WordsyBot on Twitter where you can play the game and submit your words. It's easy to see what other people have done for answers as well.
Kingdomino is a game with a lot of buzz, and I can see why. It's lighter than I expected, but it's a fun game with some light planning and a touch of conflict. I think it's a great filler and works well to introduce new gamers to hobby games. The 7×7 two player version will likely be a hit with my wife. I also like the promo castles, but they don't fit well in the box, which is frustrating.
I was curious about Dairyman when I saw the box at Unpub 2017, and when I saw it was being demoed at the TMG booth, I had to give it a shot. Unfortunately, the demo person taught us a game using the components, but it wasn't Dairyman. Once we got through the rules and got the input from someone at TMG to clarify a few points, it became a slightly thinky push your luck game with some fun abilities that can be obtained. I think it needs a small cow patterned bag for the tiles that haven't been used yet, but that's me.
The Fox in the Forest is a game I got to see at Unpub a few years ago, and the final production is amazing. The art is gorgeous, the shoot-the-moon mechanic adds lots of strategy, but it's still a great and quick game. I can see this easily being one of the games I play at least 10 times this year.
The art in The Fox in the Forest is gorgeous. Such a great game. #Origins #Boardgames #BGG #BoardGameGeek #Tabletop #TabletopGames pic.twitter.com/zKZdMObmbo

— Ken Grazier ???? (@demo_ken) June 17, 2017
Bruce at NorthStar Games showed me and a lot of other folks Vegas Wits & Wagers at Origins. I like the idea of Wits and Wagers, but the twists and additions in the Vegas version add just a bit more gaminess to the experience. I love the playmat and how easily everything flows. My two complaints are that as it expands the Wits & Wagers Party box, the original chips in that box don't say "100" on them. The other is as the rules are still being worked on, I couldn't bring home a ruleset. That being said, Wits & Wagers is far from a difficult game to learn and teach and everyone I've taught it to has enjoyed it.
Mint Works is a cute worker placement game with small round white tokens for workers. I'd admit, I see them and I assume they're actually mints. I have to make a note to not eat the workers. The game comes with some AI cards which are fun to play against and they "cheat" compared to regular players, but that's how they compensate for a real live person. I think this is a fun game, a bit light for a worker placement, but it's fun and the package is wonderful. I want to see what my wife thinks of this one.
So that's what I've played from the games gotten through the exhibitors at the show. Anything you picked up that you're enjoying? Anything you want to see a full review of? Let me know in the comments!