The Cards of Cthulhu
Shane Tyree is a friend of mine who possesses as much artistic talent as I lack, which is an amazing amount. He's done a bunch of art for a variety of games and has started his own Kickstarter project.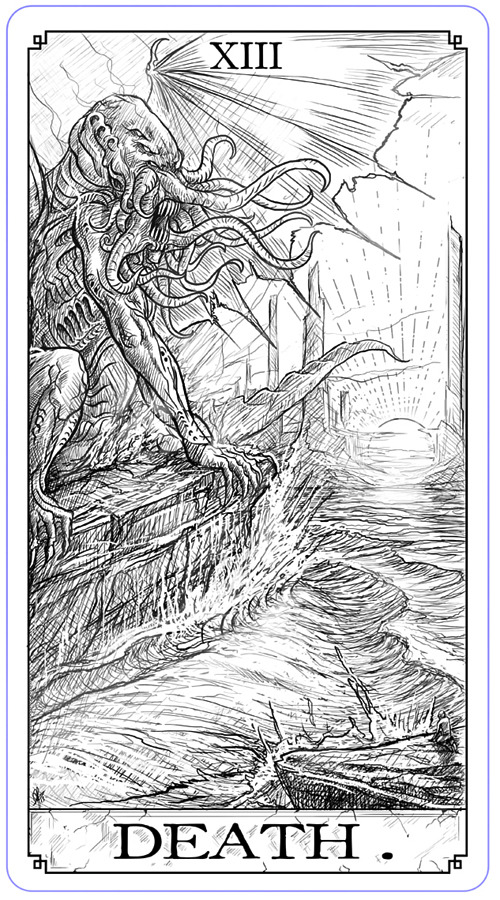 Shane is mostly known for his work on card decks. You can get larger versions of the examples below by clicking on them. You can also check out Shane's website and see his portfolio as well.
His current project is another Cthulhu related deck, but with a different direction. He's doing a regular deck of cards as well as a tarot deck, each with a Lovecraft theme. He also has dealer coins with various references to stories. Shane is one of the nicest people I know who has some of the best artistic skills I've ever seen. He's also done art for Thunderstone and Legend of the Five Rings.
You can see examples of his other decks of cards on the White Rabbit, Call of Cthulhu, Synthesis, and The Name of the Wind Kickstarter project pages.
This project has a referral system going where if you let Shane know who referred you, you and the person who referred you each get signed cards. The bullet points are:
You refer someone to the project.
They pledge.
They mention your name in a message to me.
You both get signed cards in your reward.
If 3 or more people mention your name, you get a free coin.
So if you pledge to back this gorgeous deck of cards, please let Shane know that Ken from Geek-Craft sent you. You can click on the Cthulhu King of Spades below to get to his project. The Kickstarter ends in about two weeks, so go check it out!