A Year Of Gaming – Week 51: From Ken, To Ken
As I don't expect to find many games under the tree this year, I went ahead and took care of myself and got some games. I'll be helping give away some games next month to help balance it all out.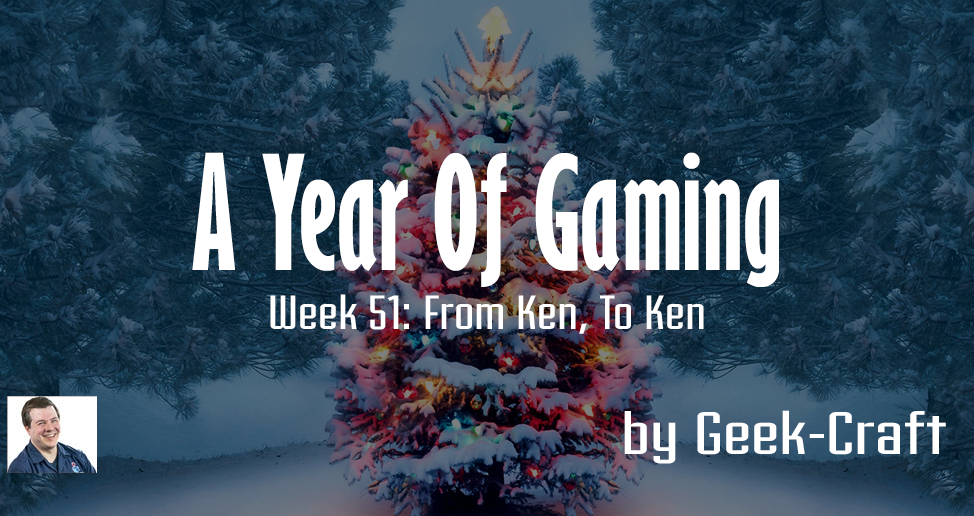 This article references the time between December 14th and December 20th, 2020.
Plays
I finished my first game of 7 Wonders Duel online with the Agora expansion. It adds many options to the game, which may make it a little too fiddly. I'd need to play more to find out, but I won the game via science, so some parts are still consistent. I also learned Kami, which was a fun game, but I think it'll do better for me at 3 or more players. I did a game of digital Race for the Galaxy against Michael Fox and lost, but still had a good time. Finally, I learned and played Trails of Tucana via Discord from Xate, which was fun. I like how simple the game is to understand. It's one that would be easily shared via webcam, so if you'd like to try it out, please let me know. We also played a bunch of The Crew, but at this point, that's far from news.
Acquisitions
I picked up my games from the two local stores that I tend to order from, so this week is gonna have a long list.
From Critical Hit, I picked up my Arkham Horror expansions. This included In Too Deep, War of the Outer Gods, and the Dark Revelations Novella. I think as much as I enjoy Arkham, I need to cancel my "subscription" at the FLGS. I just haven't played the game in… a long time.
From my local-ish Gaming Goat, I picked up a lot. Curious Cargo, Dune: Imperium with the Jessica promo, Glasgow, Paladins of the West Kingdom, Raja of the Ganges goodie boxes 1 and 2, Raja of the Ganges: The Dice Charmers, Trails of Tucana, Village Green, and Warp's Edge. I got a number of these because I know they play well for 1 or 2 players, are to games I enjoy, or come highly recommended by friends who I trust with gaming.
I also got some mini-expansions in the mail that I'd ordered from AEG. Mystic Vale: Evergreen, Tiny Towns: Tiny Trees, and Valley of the Kings: Necropolis.
Other
I'm going to be running some Silver Dagger in January and Bezier Games will be giving away copies of the game. Watch here for dates and times – all of the play will be done online!
I also know that this holiday season is going to be a bit strange for a lot of folks. I know that Michael will be streaming on his Twitch most days this week, including Christmas day. Along those lines, if you want to play a game – webcam, BoardGameArena, Yucata, Tabletop Simulator, whatever – please let me know. I'd love to play something and chat, or just try a game out. It's a rough time for a lot of folks, and I want to help how I can.