All Hands on Deck Preview
I was sent a preview copy of All Hands On Deck, a pirate themed set collection game by Salamander Games. Does this game deserve to rule the seas, or should it be left in Davy Jones' locker?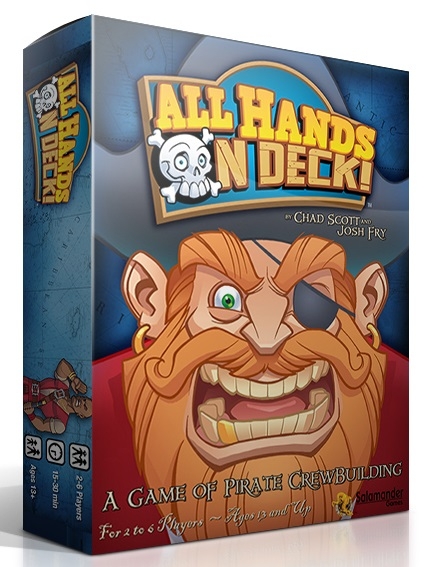 All Hands On Deck is a simple to learn game of collecting pirates to prepare your ship for sailing. In order to win, you must have enough pirates to operate your ship. This requires either a run of seven in a single color or a run of three in each of the three colors in the game. There are 108 cards in the deck, with three of each value for each crew. In simple terms, there are nine of each value of 1 through 10. The other 18 cards are actions cards that give special abilities to players.
Players start with a hand of cards and each round a new pirate will be put face up for auction. Players will use the cards in their hands to bid on the available pirate. For example, if there were a Quartermaster of the Sea Sabre (also known as a blue nine) up for grabs: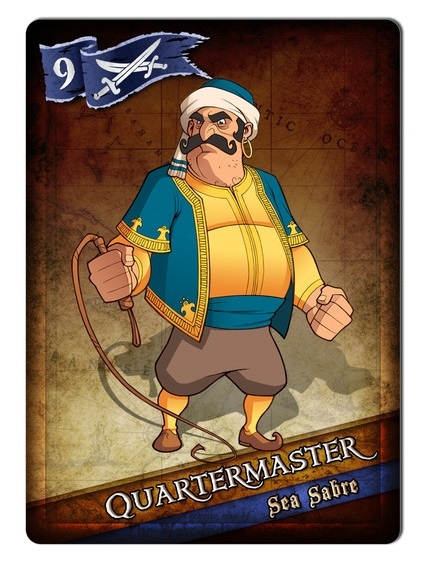 Players would use the cards in their hand to try to gain him. The cards used to bid are discarded, meaning it's important to use cards wisely or else winning isn't possible due to not having enough cards. Overall, I enjoy the game. The pirate theme is added on, but doesn't feel out-of-place. The action cards can be really powerful, but playing with some or none is certainly an option.
My main concern for the game is a very simple one. The black and blue cards are too similar in a variety of , but I've talked with Salamander Games and they have said they're considering a switch of black to green, which would fit the colors of the pirate art and standout more against the other colors.
I have enjoyed each of the plays I've gotten in of this game and wish them all the best with their Kickstarter. If the game sounds interesting, give it a look. If you have any questions about the game, please post below.